As an Amazon Associate I earn from qualifying purchases.
Enjoying the sounds of an authentic grand piano in the home is every young musician's dream. However, owning and maintaining an acoustic piano is typically going to be a substantial investment. Thankfully there are plenty of solutions like digital pianos that allow musicians enjoy to experience playing the piano without some of the steep costs.
So, should you buy a digital piano? Yes, you should buy a digital piano because of its pricing and versatility. Digital pianos are more affordable than acoustic pianos and many feature weighted hammer action keys that produce an authentic touch. Many come with a variety of tone samples, effects, and production features. Digital pianos are popular solutions for families seeking quality pianos on a budget.
With all the digital piano options on the market, you might be wondering if they are truly worth it. In this article, I'll break down some of the critical benefits of digital pianos and help make the decision less complicated for you. Digital pianos are definitely worth the investment, and I'll link you out to some of the best ones, so you know you're getting a quality instrument!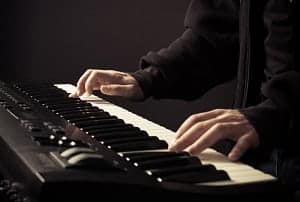 Interested in quality digital pianos for easy learning? You can find them by clicking here#ad
Why Digital Pianos Are Worth It
While digital pianos are not acoustic pianos, they present a wealth of benefits that make them worth investing in. Below are a few of the key reasons why someone should purchase a digital piano.
Pricing
The most appealing aspect of any digital piano is the pricing. Acoustic pianos can cost anywhere from $500 – $180,000 or more! Just take a look at the cost of a Steinway here to get an idea of just how much the best pianos can go for. For someone that's just starting with the piano, that can be discouraging. Not only do they not know much about playing, but the cost of entry to get a quality instrument can be demoralizing.
Digital pianos, on the other hand, cost significantly less. It's not uncommon to find a high-quality digital piano for $300 or less. Of course, you pay for quality, and there are different tiers among digital pianos as there are with acoustic pianos. For example, when comparing an upright piano to a grand piano, you're more likely to find something more fitting in your price range.
Digital pianos work the same too with the consoles and major brands ranging anywhere from $500 – $2500. Again, it depends on what exactly you're looking for. Typically the higher priced digital pianos will feature weighted hammer action so that the touch and action of the keys feel just like an acoustic piano. You can learn more about how hammer and weighted action works in this post.
The number of sound options to choose from, pedal extensions, and smart apps also play a factor in the price. Below is a helpful chart to help you decide which piano is right for you depending on your playing level:
| Level | Avg Digital Piano Cost |
| --- | --- |
| Beginner | $250 - $350 |
| Intermediate | $350 - $500 |
| Advanced | $500 - $800 |
| Professional | $1500 - $2500 |
Portability and Space
Another appealing aspect of digital pianos vs. acoustic pianos involves portability and space. Digital pianos are significantly smaller than acoustic pianos, even if they are 88 keys. While the width may remain the same at the keyboard level, the space from front to back is where digital pianos excel. Even with console-style digital pianos, they are designed to not protrude too far from the back wall.
Most acoustic pianos have a hardwood casing. The casing can sometimes be bulky and are not designed for tightly confined spaces. Grand pianos and upright pianos are different in design, though. In the case of upright pianos, the issue is not as bad because the instrument is built vertically. The bed of the keyboard still comes outward from the wall at least 18 – 24 inches. Factor in the piano bench and you'll need at least 4 to 5 feet of space to play the upright piano.
Grand pianos are built horizontally, and with the smallest sizes averaging around 5'1″, you will need about between 9 to 11 feet of floor space to play a grand piano. Digital pianos, however, sit directly on a music stand and you can even fit your knees underneath the playing area. At most, you might need 2 to 3 feet of space to sit at a digital piano.
In terms of weight, digital pianos weigh a small fraction of what an acoustic piano can weigh. Here's a helpful guide on piano weight. Because digital pianos are lightweight, you can quickly move them from one location to another. Digital pianos are small enough to place into the backseat of a vehicle or the bed of a truck.
Acoustic pianos usually require expensive moving companies to transport them to various locations. This article discusses the average prices to move a piano. Acoustic pianos are also very fragile, so it helps to have a professional mover take care of that task for you. It's still possible to do it yourself with a bit of knowledge. Keep in mind that acoustic pianos need to be tuned after they moved.
Sound Selection
An acoustic piano has only one sound; the sound of a beautiful piano. While that is great and what most of us desire, it's always great to have some fun with other sounds. Almost any digital piano you work with will have a wealth of sounds to choose from. From wind instruments like clarinets and flutes as well as percussion, the possibilities are endless. Typically the more sounds the digital piano has, the more expensive the instrument will be.
Not all piano sounds are made equal, though. Some of the cheaper digital pianos simply don't have excellent replications of an acoustic piano in terms of sound. Brands that do notably well with authentic sounds though include Alesis, Yamaha, Korg, Kawai, and Casio. Yamaha in particular samples their grand piano models, usually from their C7 concert grand piano.
When playing their p71, p45, or console models like the Clavinova, you can almost not tell the difference between the digital and real instrument. With high-quality microphones involved in the process of recording along with years of refinement, you can always expect a good sound.
Here's a list of digital pianos that have phenomenal sound quality; and yes the list includes some of my suggestions from Yamaha.
Versatility In Technology
A lot of times, digital pianos will come with a lot of bells and whistles that the average pianist does not need. However, the versatility in the technology of these pianos cannot be ignored. Digital pianos have recording and composition functionality that you can't find on acoustic pianos.
You're able to play the piano, store that data on the hard drive of the instrument and then play it back on computers, smartphones, and other devices. AS far as composition goes, digital pianos are used in music production all around the world. Many of them use a USB connection to sync up with computers to create music.
This can involve composing sheet music in programs like Finale or Sibelius. Music workstations like FL Studio and Cubase are popular with synthesizers especially. If the digital piano is missing a sound that you desire, you can download sounds to a computer and filter them into the instrument.
Some of the more expensive console-style pianos have built-in piano lessons and tutorial apps. You can add in additional services to get weekly teaching lessons, song downloads, and even digital sheet music that uploads directly to the touchscreen of the piano. The One Smart piano has this ability, and I highly recommend it. You can check out the One Smart piano here. If you're tech-savvy, then the possibilities are endless with digital pianos.
With all of that said, some acoustic pianos do have some of this functionality. For example, the Steinway Spirio can playback recordings through the use of a tablet. The Yamaha pianos use Disklavier which can record your playing and reproduce it using a floppy drive (1990 anyone?). While the technology does not go as far as a digital piano would if you want to stay with a traditional instrument, just know there are options to outfit it to make it do a bit more.
No Need For Maintenance
While not the biggest deal-breaker, the cost to maintain an acoustic piano can be something of concern. Keeping an acoustic piano well maintained is crucial to its overall lifespan. Acoustic pianos, for the most part, will need the following periodic maintenance:
Tuning (this is the average tuning cost of a piano)
Regulation of the action
Voicing
Cleaning
Rebuilding (usually 20 years or more into ownership)
Miscellaneous Repairs (pins, cracks, damage)
There's no way to get past some of the maintenance that an acoustic piano will require. These pianos experience age and normal wear and tear. While some of the repairs are significantly more expensive than others, for the most part, tuning, voicing, and regulation are all you will need to worry about.
Digital pianos need no regulation whatsoever. They are digital so anything as far as tuning and regulation will remain constant throughout the life of the instrument. Occasionally you might run into a few issues such as a broken key or loosening felt over time. These are things you can repair yourself with a bit of glue and some essential tools.
If you have a more expensive instrument like a console that needs significant repairs, then simply make use of the warranties that come with the instruments. Most keyboard makers have great warranty programs that cover necessary maintenance but don't expect them to include things like spilled coffee on the keys.
They will usually cover electrical issues or issues with the computer itself malfunctioning inside the keyboard. At worst if the digital piano fails past the warranty piano, you can simply purchase another one.
Special Features
Digital pianos are built with plenty of features to make practice efficient and fun. Rather than just existing as a plain piano, digital pianos are positioned to be complete entertainment experiences.
With smart apps, students can learn on the go with or without a teacher. These apps are all visual with easy menus so that even young pianists can set up their own playing experiences. Many digital pianos include large song banks that include backing tracks to play with. This makes the playing experience more exciting in addition to the ability to change what tone you're playing with. The backing tracks help create a full ensemble and can be modified as well.
To help train rhythm, these pianos come with built-in metronome features. This helps keep pianists at a consistent tempo and helps train the ear and fingers to play better rhythmically. Some digital pianos that have visual screens will show where the beat lands in each measure so that you can follow along and develop better hand and eye coordination.
For more advanced players, you might want to play with the music production side of digital pianos. Many of them include tone and pitch wheels so you can modify the sounds on the fly. Synthesizers also include drum pad features so that you can compose your own accompaniments on the spot without needing a laptop.
In addition to what's already built into digital pianos, there's always room to expand. Pedals can be added separately and usually plug into the back of the keyboard. For silent practice, there is typically a headphone jack. With the advancement in technology, some digital pianos now offer Bluetooth functionality to make things truly wireless.
Other features you might take note of with digital pianos are keys that light up when played; a helpful feature for visual learners. There's also volume knobs to adjust to whatever room the piano is located in. In addition to the hammer and weighted action is the ability to adjust the actual touch digitally. You can change the attack of the keys so that a different type of tone is produced.
If you're trying to build up finger dexterity, this is great as you can adjust the resistance of the note velocity. While this doesn't change the actual physical touch of the keyboard action, it does help train the ears and hands to adjust to naturally; however, the piano produces its tone.
Final Thoughts
Everyone who wants to enjoy music has their ways to go about it. The piano is one of the most exciting instruments to play; however, it's also one of the most expensive. Grand pianos are the best anyone can get; however, their size and sound production might not be ideal for everyone's living situation.
Digital pianos offer a chance to experience what a real piano feels and sounds like without much of the hassle. There's no need to worry about hiring moving companies, purchasing insurance, or getting into an expensive loan. Instead for a modest price, you can own a digital piano and have it shipped to your doorstep in a matter of days.
Digital pianos are worth it for pianists of all ages. It does not matter if you're an adult beginner or looking to get your child started. They just keep getting better too, especially with the self-teaching functions (although I recommend eventually hiring a reliable piano teacher; learn more about that here).