As an Amazon Associate I earn from qualifying purchases.
Choosing the best digital piano for beginner pianists can be tough. There is a lot to consider such as the difference between weighted and hammer action keys, the size, brand, pricing, and whether you think it's going to be worth the investment. Whether you're an adult or have a child just starting to learn the piano, it's important to get the right digital keyboard for the best success.
These are the top 15 best digital pianos for beginners
Alesis Recital Pro
The ONE Smart Piano
Roland F-140R-CB Compact Piano
Yamaha P71
Casio Privia PX-160
Yamaha YDP103
Lagrima LG-8830
Yamaha P45
Artesia PA-88H
Yamaha CP40 Stage Piano
Yamaha MX88
Korg SP280BK
Roland FP-30
Yamaha YDP-143B Console
M-Audio Hammer 88 Keyboard
With a list that big it can still be tough to make a decision on a digital keyboard. Before we dive into each one of these in detail, let's talk a little bit about what qualities make this particular list of digital pianos stick out. After that, I'll break down each one of these digital pianos, give them an honest rating and leave the buying process up to you!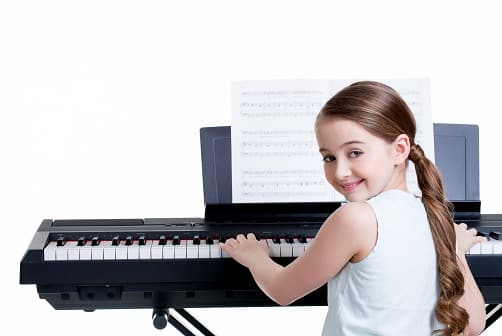 Hammer And Weighted Keyboard Action
Before you purchase any piano keyboard, you need to make sure it has hammer or weighted action. Pianos with this feature do a great job of simulating the action of an acoustic piano.
When played, it'll feel as if a real hammer is released to strike the strings via the damper; this is how a piano works.
For a serious pianist who plays Classical repertoire, it's crucial that a digital piano can replicate the same feel. Without hammer or weighted action, it will be hard for a pianist to develop lyrical playing, touch, articulations, and even play evenly in time.
All of the instruments on this list of best digital pianos have the necessary hammer or weighted action that a beginner pianist needs. To learn more about how hammer and weighted action differ, read this article.
Console Digital Pianos Have Better Longevity
You'll notice on this list of keyboards that some of them are actually piano consoles. Consoles are pianos that have a base built to the ground and are well covered in all areas. Many of them even have a fallboard cover to protect the keys when it's not in use.
Consoles are designed to mimic real acoustic upright pianos but in a much more compact design. For a parent with small children learning the piano, consoles are actually the more preferred choice.
Compared to a digital keyboard on a music stand, it's very easy to tip one of those over by mistake even in passing. With consoles, you don't have to worry about that at all because of their sturdiness.
Console pianos also tend to be more expensive, but have better-refined features. For example, the pedal is installed right into the base so you don't have to deal with wires or separate parts. The hammer or weighted action is almost sharper and more consistent. Many console digital pianos are sold with adjustable benches too.
High Polyphony
An often overlooked detail about digital pianos is the number of polyphony the keyboard can reproduce. Polyphony in digital keyboards is the number of notes a piano can produce all at once.
A safe number to look for is at least 128 and no higher than 256 notes. This way when you try to play a full rich chord on the piano, you'll hear all of those tones in perfect balance with each other.
If the polyphony is any lower, then you will almost certainly hear unwanted dropouts in your playing.
It's also important to realize that if your keyboard has any special effects like reverb, 3D spatial effects, or even sustain pedal usage that additional notes will be added to the polyphony count. The higher the count, the better the sound reproduction you'll get with a digital piano.
Recording, Learning, & Smart Features
Many of the keyboards on this list offer a wealth of features that can be beneficial for a beginner piano student. One of those is a recording feature. Pianists can simply press a button, and begin playing something their working on.
They can then just press the play button and immediately listen back to their playing, and do a quick critique, make notes, and improve their learning.
Other pianos on this list like The One Smart Piano offer learning modes. The piano will use a system of color-coded lights or sync up with tablets and smartphones to guide pianists through new songs. Many of these apps have huge databases filled with thousands of pieces to choose from.
With that information in hand, let's take a look at the first digital keyboard on the list, the Alesis Rectial Pro.
Interested in quality digital pianos for easy learning? You can find them by clicking here#ad
1. Alesis Recital Pro
The Alesis Recital Pro is an upgrade over the regular Recital model because of its hammer action keyboard; you can see all the details on the Alesis keyboard here. Still, I find this digital piano adequately provides everything a beginner pianist needs along with some neat features to expand musical creativity.
It's a full size 88 key instrument with adjustable touch response. For example, if you wanted to develop more playing strength you could set the response to hard so more playing depth is needed to produce a certain tone.
The keyboard weighs around 30 lbs and will need a keyboard stand. It's quite easy to move around from location to location, and it's something you can travel with as well.
Speakers are built-in to the top left and right corners of the keyboard providing quality stereo sound. The speakers are 20W which is about standard, and there's also a headphone output which allows piano students to practice in private without distractions.
There are only 12 voices on the keyboard which is a bit limited, however, all of the samples are premium quality sounds. Everything from the high-quality piano, organ, guitar, and violin samples are available from the instrument database.
The display panel is easy to read, and it uses a volume knob dial. One of my favorite modes on this keyboard is the split voice function and recording function.
This is useful for piano students to play their repertoire and then play it back for self-assessment. The built-in metronome feature is very convenient, and it also has lesson modes for self-teaching purposes. If you're tech-savvy, you can also connect this keyboard to a computer via USB and do a midi recording with it.
2. The ONE Smart Piano
The next digital piano that I recommend for beginners is The ONE Smart Piano. This is unlike anything else on the market because of how technologically advanced it is. It's not the most budget-friendly option, however, it's one of the better pianos available for serious players.
This keyboard syncs up with smartphones and tablets to allow for a unique learning experience. The app includes access to a database full of sheet music, video tutorials, interactive games and more. It's the perfect scenario for keeping young pianists engaged with the instrument.
The piano is designed in an upright console style, so you won't need any separate music stands to prop it up. The ONE Smart Piano weighs around 120 lbs and features a solid wooden body that's sturdy, and the speakers are built in along the length of the fallboard.
The pedals are installed in the base of the instrument, so it will feel and play much like a real acoustic upright would. It actually features the damper, una corda, and sostenuto pedals which most digital pianos do not. The keys are all hammer action, and they have a fluid touch response.
It's a great instrument for Classical repertoire, Jazz, and even electronic music via the 128 different sound samples. It also has MIDI capability for syncing up with laptops and converting music. For self-practice, there is a built-in metronome, transposition function, and volume control.
3. Roland F-140R-CB Compact Piano
Roland digital pianos are known for their consistent hammer action and quality. The F-140R-CB is no different, and it provides a great option for beginners who plan to really commit to piano study. Watch this video to see this piano in action!
This piano is a mini console, meaning that has the pedals built into the base, and also has the keyboard built into the stand. The music stand is also conveniently built into the back of the keyboard, and it's wide enough to hold a lot of sheet music at once.
The buttons are located on the top left side of the piano and include volume sliders and one-touch sound sample selection.
The Roland is a lot less bulky than a Yamaha Clavinova, so it's great for someone who's tight on space. While the keyboard has built-in speakers, where this keyboard really excels is in its 3D sound technology.
Using headphones, pianists will get a completely immersive listening experience with options to tweak the ambiance and acoustics.
There are also 72 rhythm accompaniments built-in which allows students to play along with popular music in the database. Included in the keyboard are recording and composition modes to promote creativity in piano practice.
The Roland is also Bluetooth compatible, allowing pianists to sync it up with various apps to access neat features, play games, and more. Overall this keyboard has a ton of musical tones, 305 to be exact.
4. Yamaha P71
The P71 is one of my favorite Yamaha digital piano models. It's a budget-friendly option, and it carries the expert craftsmanship that Yamaha is known for in all of their instruments.
This keyboard is not a console, so you'll need a sturdy keyboard stand like this one to prop it up. It does include a music stand, and headphone to help with practice. The piano only ways 25 lbs, so it's easy to move it around the home.
The keyboard features weighted action keys, which feel very good to the touch. It's better balanced than the Alesis pro in my opinion.
It features Yamaha's graded hammer action, meaning the bass notes are heavier and the treble notes are lighter; much like you would find on an acoustic instrument. This leads to a more accurate development of finger technique for aspiring pianists.
As far as sound quality goes, the samples on the Yamaha P71 are amazing. Yamaha has implemented their classic sound engine to deliver an accurate sound stage with perfectly balanced stereo sound. This means that when you press a key, it can reproduce the exact touch volume and articulation.
Some other neat functions that help with practice and practice engagement are the built-in metronome, dual sound layering, and 10 authentic samples from real Yamaha pianos.
5. Casio Privia PX-160
The PX-160 is one of the most popular digital pianos available and for good reason. It features everything you would expect with it's smooth playing action, the wide selection of sound samples, and lightweight body.
The speakers on the PX-160 are both 8 watts, so they provide exceptional sound coverage without having to turn the volume all the way up. Because of the speaker locations in the front and back, you could play to the back of a room while still hearing yourself.
There's also outputs to connect to external loudspeakers, or even plug in headphones for private practice.
Overall there are 18 samples available in this model, and you can access each with the touch of a button. While the piano sample is not as high quality as a Yamaha, it's still good enough for beginner piano students looking to practice. The grand piano sample is from a real 9-foot concert grand expertly recorded at various expressiveness levels.
The touch response is really good for developing various dynamic tones in your playing. It's possible to get an accurate forte and pianissimo with this instrument. There are actually 3 sensors implemented into the keyboard to also help with accurate volume depiction at both slow and fast playing speeds.
All of the keys are tapered so that the low end is heavier and the treble end is lighter just like an acoustic grand piano. When adding in the pedal, the tones blend together really well.
The PX-160 features a compact frame, making it easy to carry and transport. As with any digital keyboard, it's recommended that you use a quality carrying case when not in use.
6. Yamaha YDP103
If you're looking for a keyboard that incredible sound, this is the one. The YDP103 features advanced wave memory to help deliver the best synthetic piano sound available.
Couple that with the half-damper pedal feature and pianists are able to replicate fluid playing that's incredibly responsive. This means that when you press a key you can achieve varying lengths of sustain just like an acoustic piano would allow.
This model also includes Yamaha's Graded Hammer Standard just like the P71. This helps replicate varying touch levels across the bottom, middle, and top end of the keyboard. If you have an interest in switching between different playing styles then that is an important feature to consider.
This is a console-style model, so the 3 pedals are built-in. The wood frame is well made and comes in both a Rosewood or Black finish. The music stand is also built-in, although it's only wide enough to hold one book of sheet music at a time.
There are two grand piano sounds available on this model. One is a standard grand, and the other is a brighter tone. There are also organ sounds, strings, harpsichord, vibraphone, and other settings. This digital piano does require some assembly, so make sure you have help on hand.
7. Lagrima LG-8830
One of the bulkier digital piano consoles available for beginner pianists is the Lagrima LG-8830. The overall wooden frame is large both in the back, front and sides. The base of the keyboard is also quite wide.
The dimensions of this keyboard are 18 x 53 x 33 inches, and it weighs around 100 lbs. Those dimensions include the fold over hardcover lid. Take a closer look at the Lagrima keyboard here.
Overall the assembly of this console is pretty straightforward using screws. The wiring is also for the most part hidden inside the frame so that it looks amazing in any room you place this keyboard.
While the keyboard is bulky, it's a great budget option, and built tough to withstand constant use. The base features the sostenuto, sustain, damper, and una corda pedals and they actually work quite well.
The keys on this model feature 16 different touch levels. This way when you press a key, the volume will adjust to almost any level of weight your hands apply to it. There's also plenty of delay and reverb effects to help simulate concert halls, small rooms, and dry ambiance.
Like many of the other instruments on this list, it features an enormous amount of tones; 960 to be exact! To help sort through those tones there's a built-in LCD display where you can select, mix and match those tones.
It's a good idea to sort through some of the operating instructions to learn how to access the various soundbanks and familiarize yourself with how the keyboard functions.
There's also a metronome, self-teaching modes, and midi recording capability. The speakers sound great, especially when playing with the rhythm accompanying mode. The soundbank 80 demo tracks, which is plenty enough for young pianists to use along with their playing.
8. Yamaha P45
With 10 voices and excellent keyboard action, the Yamaha P45 is a good option for beginner piano players. There's not a huge difference between this model and the P71. It's about 10 pounds heavier, but overall the design is pretty much the same.
The P45 focuses on many of the same authentic sounds, touch response, and GHS weighted action to make it feel like an acoustic grand. This model specializes in simple, one button operation so you can get to playing even faster.
The volume button slides up and down with minimum and max settings. There's also the main function button which you can use to quickly shift between voices, enter demo song modes, and more.
It features an organ and synth sound that is actually quite good! As far as the grand piano sound, there are some concerns with the tone balance of the bass notes being tuned a little too loudly. Listen to an example of the piano here to hear for yourself.
Included with this keyboard are the power adapter, sustain pedal, and other accessories so it's ready to use out of the box.
This keyboard comes with the square foot style sustain pedal, but I recommend a weighted sustain pedal like this one instead. The headphone jack is located in the rear of the keyboard, so there's the potential for wires to get in the way.
While there is no recording or playback mode on the keyboard itself, it does have a USB output. This way you can use a program like FL studio or MIDI program on a computer to compose music there.
9. Artesia PA-88H
A lesser known brand of digital piano is the Artesia. These pianos are surprisingly good at what they do and are a good option to go with if you are looking to upgrade to an authentic feeling digital keyboard.
The model I find most useful is the PA-88H. It's a full size 88 key digital piano that features really smooth hammer action. It's not blocky like some of the others, and its dynamic range is quite noticeable.
The sound on this piano is excellent thanks to the two 15 watt speakers installed in each corner of the instrument. It features 16 voices which are perfectly fine for a beginner. Each of the sounds can be tweaked via the built-in EQ function. This allows pianists to get more bass, and less treble or even a brighter tone to each voice.
Each of the sounds is already balanced in each frequency range out of the box. The grand piano sound is my favorite. It's actually sampled from a concert size Bosendorfer grand, and it's multi-layered to give the most dynamic options possible when playing. This piano also offers 3D surround sound just like the Roland F-140R-CB.
On the back panel, there's plenty of inputs to allow for using this keyboard in many different ways. You'll find a USB output, headphone, MIDI, and power supply outlets. The keyboard even runs on batteries making it a great portable option for family trips!
10. Yamaha CP40 Stage Piano
Stage pianos are generally used in live band performances, but they are great quality pianos for practice sessions too. I personally have a Yamaha Cp33 which I love, but I've found the Cp40 Stage Piano to be a step above this one even.
The touch is really smooth, although it's a little heavier in the bass than I would prefer. Otherwise, this piano does everything you need a digital piano to do. stage pianos don't typically have speakers installed in them, so you'll need either a keyboard, loudspeaker, or USB hookup to make this work for you.
On the top, there are some cool modulation and pitch bending tools that I think adult beginner piano players would have a fun time using.
Next to that are the volume dial, equalizer tools, and ambiance and touch response settings. On the left side is a master equalizer area for tweaking the bass, mid, and treble levels.
The sounds on this piano are very good, especially the vintage piano samples. It includes the CP80 electric grand as well as the DX7 just to name a few. Combined with the graded hammer weight, pianists can explore various depths across the entire instrument.
I love how you can really customize the feel and sound of your playing. The depth of sound is great too, it's fully surround sound making this an attractive buy. Overall the interface is a bit difficult to work with, but with some experience, it becomes easier to customize the settings on this piano.
11. Yamaha MX88
What the MX88 specializes in is the recreation of voices in the most realistic way possible. Many digital pianos have a hard time doing so, even the really good ones.
That's not the case with most Yamaha digital pianos like the P45 and P71, but I've found the MX88 to be the closest to solid quality sound reproduction.
There are no speakers on this model, so it's comparable to the CP40 stage piano. This digital piano, however, is more budget-friendly than the Cp40 but offers a lot of the same features.
This includes the virtual circuit modeling, graded hammer action, and the full concert grand sample from the MOTIF series. Another neat mode with this piano is that you can save recordings and presets on a USB chip for easy access later. The best part about the USB is that you don't need to install any drivers. Simply plug into the laptop and let it go to work.
This is a piano I would suggest for an adult student who is a beginner but wants to play around with different sound effects and tweak different modes.
Check out the MX88 here for more details.
12. Korg SP280BK
A brand we haven't covered yet is Korg. Korg is known for their high-end synthesizers, but some of their 88 key models make for excellent daily use pianos if you have the means to get one.
I've found the SP280BK to rank somewhere right below Yamaha, but also above the Alesis Recital Pro and Casio Privia models.
This piano comes with a stand, although I found it to be flimsy because of the actual weight of the keyboard itself. I would suggest purchasing a music stand that's much sturdier so it doesn't rock when playing. An adjustable bench and headphones also come with this keyboard.
The SP280BK features what they call Natural Hammer action. It's similar to the Yamaha models where each key is graded with heaviness in the bottom and lighter action in the top.
It's not as refined as the Yamaha models, but it's extremely good. Pianists can easily perform trills, arpeggios, scales, and other technical playing on it which is important.
13. Roland FP-30
Another Roland model I recommend is the FP-30. It's about what you would expect from a digital piano in this price range. It's well made, sturdy, lightweight, and comes in a variety of colors.
This keyboard features Bluetooth technology just like The One Smart Piano. You can sync it up with apps and use it to play along with a large database of music.
The stand that comes with this keyboard has a console like design to it. Although there is no back panel that houses the pedals, you can still install a 3 pedal unit to it if you desire. All of the outputs are located on the back of the keyboard, but you can run the wire down and along the sides so that they aren't in the way of your playing.
As far as the touch is concerned, it's actually pretty solid. Roland uses a SuperNATURAL engine technology to help deliver an authentic touch response to everything you play.
There are also ivory touch keys which you don't see on many digital pianos these days. This really gives it an authentic vintage piano feel, and a better grip that beginner pianists are going to need as they develop their technical skills.
The sound quality is very good, and it has 3D spatial technology to add just the right amount of reverb for the right acoustic setting. And, if you want more customization with the piano sound you can simply use the designer feature which lets you tweak the EQ. Being able to customize your own piano is important, especially for Classical piano players looking for just the right timbre.
Overall this piano offers a robust 13 piano tones to go along with the other 22 tones. It has modulation features and decent 11-watt speakers to provide plenty of sound for the player.
14. Yamaha YDP-143B Console
The YDP-143B is one of the top consoles available from Yamaha. It's built well and comes in both Rosewood and Black Walnut colors.
The sound quality on this instrument is amazing, and that's because it samples a 9″ Yamaha concert grand. The key action is outstanding, graded, and smooth to the touch across the board. With the hardcover, it's easy to protect the keys then the piano is not in use.
This piano has some unique recording features and around 900 KB of internal memory storage space. It comes preinstalled with 50 piano songs that you can play along with.
There is also a controller app you can use with this instrument to easily navigate between the various features of the instrument. The polyphony rating on this model is 192, which works perfectly for beginner to advanced piano playing.
15. M-Audio Hammer 88 Keyboard
The M-Audio keyboard, in my opinion, is a more advanced version of the Alesis Recital Pro. It's loaded with a ton of features and it's very sensitive to a pianist touch. The keys are fully weighted, hammer action, and allow for expressing playing and control.
This keyboard also syncs up with tablets and the Apple iPad Camera kit. With the app you can actually compose while you play; a feature adult piano beginners will find to be very enjoyable to use. It's compatible with a lot of music programs like Abelton and Pro Tools just to name a few.
Related Questions
Which brand of digital keyboard is the best? The most consistent brand of digital keyboards are by the following:
Yamaha
Casio
Alesis
Korg
Roland
Is digital piano better than acoustic? While digital pianos are great alternatives to acoustic pianos, acoustic pianos are still considered the better option. There are many factors to consider such as pricing, availability of space, level of piano skill and more. Digital pianos provide a temporary and sometimes permanent solution for novice pianists.
Do digital pianos need tuning? Digital pianos are electronic instruments, and therefore do not require the kind of traditional tuning acoustic pianos require. They, however, may have technical failures which may cause them to lose their tune and would need a mechanical repair. Because digital pianos do not need tuning, they are often preferred to avoid the bi-yearly cost of a piano technician.
Can you learn piano on a digital keyboard? Yes. Digital keyboards are designed to mimic the look, feel, and usability of an acoustic piano. Many of them feature graded hammer action so that pianists can develop the necessary finger strength to execute standard piano repertoire to it's fullest extent. While not a replacement for acoustic pianos, digital pianos are very popular for beginner students.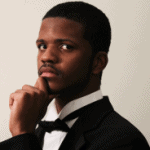 Hello & thanks for stopping by! I'm a professional concert pianist and piano instructor. In the United States, I've given successful performances in several places including New York, Florida, Connecticut, & New Jersey, I have also performed internationally in Italy and made my Carnegie Hall debut in 2014. I enjoy blogging about the piano, the art of performance, general music, current events and the latest in music production.