As an Amazon Associate I earn from qualifying purchases.
There is no more exciting time in an individual's life than their wedding day. As a musician, handling the task of performing music for someone's wedding can feel like a lot of pressure. Your job is to set the tone and mood for all the guests in attendance. Chances are you've been asked to play music for the big event on short notice and truly finding something quick and easy to play can be difficult in those moments.
Having been in this position many times I thought it would be a great idea to create a complete list of easy wedding songs for piano.
Here's a complete list of 15 easy wedding songs for piano
Pachabel Canon In D
Wagner Wedding March
Can't Help Falling In Love
A Thousand Years
All Of Me
Ave Maria
Gymnopedie No. 1
Mendelssohn Wedding Mach
Hallelujah
What A Wonderful World
I'm Yours
You Are So Beautiful
At Last
Isn't She Lovely
A Whole New World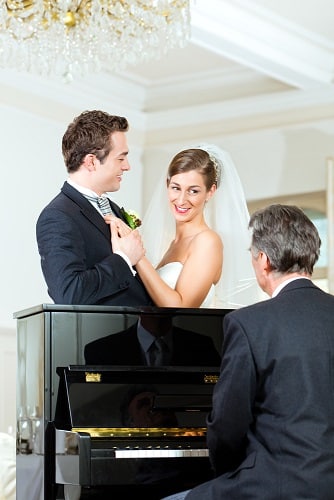 These are all songs that you can play comfortably without too much thought and effort. There's a good mix of modern and old tunes on here to keep things fresh. Also, the list contains tunes for every part of the ceremony whether it's the procession or even something fun for in-between parts. As long as you know the basic melody you should be able to play them withing a few practice sessions. It should be noted that you should have at least some intermediate playing experience to play these tunes.
I'll share links to the best arrangements of these wedding piano songs so you don't have to look around elsewhere for that. Let's get started with the most requested wedding song for the piano, Pachabels Canon in D.
Interested in quality digital pianos for easy learning? You can find them by clicking here#ad
1. Pachabels Canon in D
No wedding is complete without the beautiful Canon in D by Pachabel. In fact, it's the most popular wedding song ever according to this NY Times article.
Below is the basic chord progression of the canon:
D major
A major
B minor
D major/F# minor
G major
D major
G major
A major
Even if you don't know the tune, just playing through those chord progressions gets you halfway there. The melody, for the most part, is made up of arpeggios within the left hand. The right hand will mostly carry the quarter notes, but it does develop into more as the theme goes into different rhythms. It's really up to you how far you want to go but it's to play this with a combination of quarter notes, half notes, and eighth notes.
Here's a great video showing what most pianists do who play this piece:
If you're pressed for time and desire something even easier, then you could limit the left hand to just the basic harmonies instead of arpeggiating them. The right hand could handle the more of the decorative work, playing a single line melody.
Even if you're playing an easy arrangement of the tune, it's important that it does not sound too dry and reserved. Below are a few things you can do to help elevate the performance of this piece:
Leave out repeated sections
Simplify complex rhythms
Take a slower tempo
Add in dynamics for a more energetic performance
This video is one of the better easy arrangements if you're a visual learner:
If you really want to bring authenticity to the piece, then it would help to get some sheet music that has everything arranged well. Keep in mind that a lot of the easy piano arrangements will actually drop the key a half step to C major and visa Versa, but it's so well known that even the average listener will think it sounds awkward in another key. The Coates version of it is actually pretty good and should fit well with intermediate players. You can check that out here.
2. Wagner Wedding March
I love this wedding march because it's great for the procession. Everyone stands up and the bride is introduced. Pianists in weddings are normally reserved in their playing, but this is that one moment where you can play out with those rich chords.
It's actually called the Bridal Chorus, but many people refer to it as "Here Comes The Bride". It was written in 1850 and was more of an orchestral and opera arrangement. Still, it works well on the piano. You can play this in several keys, but I find that B flat major (the original key) and C major work just fine.
The introduction starts with octave F's played in both hands. It then settles into B flat major. To make it easy I would just play the melody as single notes in the right hand, but try to do an octave bass line int he left hand. That helps it to start fuller even if you are not playing full chords in the right hand. Take a look at the video below to get an example of what I mean.
If you're looking for good sheet music of this, you might want to check out this arrangement of the wedding march. It starts right on the verse and the way the chords are divided up makes it an easy read. For the most part, the right hand is playing intervals between a third and sixth. There is also some helpful fingering in the arrangement and suggested pedaling. Rhythmically everything is there so it will sound very authentic!
3. Can't Help Falling In Love
If you're a fan of Elvis, then this is definitely something to incorporate into a wedding. Usually, this song would fall under requests, and it's probably the most requested song I've ever gotten for piano music at a wedding. It's really easy to pick this up too because of the chord progressions. Here's how the bass harmonies of the opening verse are laid out if you were to play it in C major (simpler than D major).
C major
E minor
A minor
F major
C major
G major
F major
G major
A minor
F major
C major
G major
C major
You would repeat that to cover the first two verses while the right-hand plays the melody. The middle section moves briefly between E minor and A minor chords before the main chord progression comes back. Because it's such a slow ballade it's easy to learn this one in just a few minutes. The melody does not have a lot of notes either.
4. A Thousand Years
This is the first modern wedding song on this list. A Thousand Years was released in 2011 by Christina Perri. The song starts out with a piano intro on B flat major chords. It follows the chord progression of B flat, G minor, E flat major, F major before it transitions into the verses. Guitar and strings are introduced to help fill in the harmonies.
As someone learning this for the first time, you might want to listen for certain harmonies that those other instruments are adding in. Adding in some of the arpeggios from the guitar part and laying down thicker chords in the left hand can really fill the tune out nicely.
Another good way to learn this is to simply pull up a YouTube video like this one and listen to the original version. Pick out some of the different vocal rhythms and copy the melody. Because the song is so popular, it's easy to find it in a piano pop book as well. The Piano Guys have a nice sheet music book that includes several songs including A Thousand Years. Check out their solo piano book here.
5. All Of Me
All Of Me was one of the most popular songs released in 2013 by John Legend. This entire song is based on the piano and vocals. Its primary chord structure during the verses is F minor, D flat major, A flat major, E flat major. As the verse prepares for the transition to the chorus the chords will go from B flat minor, A flat major, and E flat major. That E flat major is the dominant chord that sets up the chorus which starts right on A flat major.
Structurally and musically, it's really easy to understand the song and anticipate where certain chords are heading. Rhythmically the pianist plays the same syncopated rhythm in the right hand while the left-hand handle the bass line.
Overall the piano part is not very difficult and this is one of the best wedding piano songs you can use in various parts of the ceremony. If you're looking for something to play during the recpetion or the exchanging of vows, it can even work then too. Definitely check out the video below for some inspiration on how to play this.
6. Ave Maria
If you're looking for something more sacred and traditional, Ave Maria is the perfect solution. This is a Schubert piece composed in 1825. You can play it in just about every key, but B flat major seems to work best. The song has a few sections that will require some good listening on your part in the right hand if using a video.
Most arrangements start off with arpeggios in the right hand that outline each change in harmony. After that, the verse notes come in with the familiar "Ave Maria" vocals. When that happens, it's a good idea to transition those arpeggios from the right hand into the left hand instead. This helps fill out the sound quite a bit so the piece sounds full.
Below is a video you can watch to help you figure it out.
7. Gymnopedie No. 1
The Gymnopedie by Eric Satie is a hugely popular piece in classical music. I put it up in the same realm as Claire De Lune as it has many similarities in its composition.
It's one of the easier pieces to play, but it does take work and time to get it up to speed. With that in mind, my recommendation is to learn just the important parts that people are familiar with. Really anything past the first 2 pages is not heard in radio or TV, and so you can just section that part off and loop it during the wedding ceremony. Below is a video showing the most important parts of this tune.
There are some really good arrangements of this that capture all of the harmonic progressions without losing elements of the piece. Check out this version. It has the pitches laid out with big font so the notes are easier to read.
8. Mendelssohn Wedding March
Next up on this list is another wedding march perfect for an easy piano wedding tune. It's performed in C major and was written in 1842. It's been used regularly at weddings since 1847 so it definitely fits the traditional wedding music mold! Overall it's a really energetic tune with lots of pomp and circumstance.
It's very common to hear this played on strings and even church organs. If playing this on the piano you'll need to bring some bravado to the playing to get the right kind of effect. Of course, if you're feeling really ambitious, you could try out something like Volodos did in this video!
9. Hallelujah
It's not uncommon to hear this song played at weddings on guitar. The piano can also be a good opportunity to play this Leonard Cohen classic. It was released in 1984. This is a nice song to add to your list of gigging repertoire. It's a crowd favorite and the melody is simple. I recommend playing this song in G major or C major.
10. What A Wonderful World
If Jazz is your favorite style of playing, then this next song is a perfect fit. Louis Armstrong is most well known for this song which talks about just how wonderful life can be. It's a fitting addition to anyone's wedding and would be great to play at the end of the ceremony. It's written in F major and originally has strings and vocals to it.
On the piano, though you can mimic most of the parts with the left hand controlling the harmonies and the right hand taking care of some of the decorative parts the orchestra has. I've played this many times before and its actually quite easy to layer the short instrumental solos from the orchestra in between the melody line.
Hal Leonard has a good arrangement of it for piano solo; you can get it here.
11. I'm Yours
I like this Jason Mraz song because of it's tropical feel. This is an upbeat piano piece that's really easy to play because it simply loops the chord progression. Check out the video below and you'll be all set to play this for someone's wedding.
12. You Are So Beautiful To Me
Every now and then the groom may request that you play something special for the bride. This usually happens in the middle of the ceremony and often as a surprise song. You Are So Beautiful is one that gets requested a lot because of its loving message. This song has a bit of soul to it and the chord progression is really easy to master.
For the most part, the verse goes between G major, C major, and F major chords. There's a short transitional part that goes between E minor and A minor but quickly returns back to the tonic chords. It's composed in a way that you can settle into the melody easily without having to stretch the hands to wide. It's also a slow-paced tune which helps with learning it quickly
13. At Last
Wedding days are the culmination of years of work and trial and error. That's why this Etta James classic is the perfect fit. Its a slow ballad and definitely worth learning. Written in F major and cycling between the same set of four chords for the majority of each verse makes it easy to learn.
14. Isn't She Lovely
Another request you might get for a wedding is this Stevie Wonder classic. To really make things interesting you could play the harmonies with the left hand and solo the melody with a harmonica in your right hand!
15. A Whole New World
There are many Disney songs out there that focus on love, magic, hope, and wonder. However, only one song seems to bring out the joy of going on a new journey and that's A Whole New World from the Aladdin movies. Check out this piano solo below to get some inspiration for how you can play it too!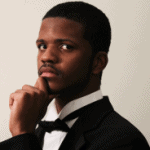 Hello & thanks for stopping by! I'm a professional concert pianist and piano instructor. In the United States, I've given successful performances in several places including New York, Florida, Connecticut, & New Jersey, I have also performed internationally in Italy and made my Carnegie Hall debut in 2014. I enjoy blogging about the piano, the art of performance, general music, current events and the latest in music production.