As an Amazon Associate I earn from qualifying purchases.
I remember when I first started teaching piano. It was a joy sharing my knowledge of playing with them. I always wondered how to get more piano students so that I could create a truly robust piano program. Below are 24 proven strategies to help you get more piano students to teach!
Interested in quality digital pianos for easy learning? You can find them by clicking here#ad
1. Reach Out To Music Organizations
Music organizations are powerful resources when used correctly. You can find national and statewide organizations like MTNA, or go for something more local like a music society.
These groups are usually comprised of retired music lovers, performing artists, piano teachers, and other leaders in the profession.
Simply signing up gives teachers access to really helpful tools. This includes training, access to exclusive competitions and social groups, and access to performing arts venues for discounted prices.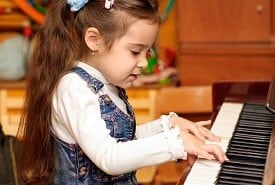 One of the biggest benefits of MTNA is the national seminars and consultation services for new teachers. MTNA also offers a wide range of membership levels with over 20,000 active members.
When you join a music database, you are typically added to their database of teachers, and given the endorsement of that organization. These databases are highly searched by prospective students looking for a quality teacher to work with.
From a recruiting standpoint, teachers who are involved in MTNA are more attractive to new students. Having a membership with them allows students to participate in unique masterclasses with established pianists, join competitions, and receive special coaching.
For a new piano teacher who is just getting started on to you as well as other recommendations. d, it's important to join as many local music clubs as possible.
If you feel up to it, it would not be a bad idea to run for a leadership position within these organizations too.
The amount of networking potential these groups have will not only grow your piano student roster but also add to your credibility as an instructor.
Check out MTNA and their benefits here.
2. Host A Piano Recital
One of the first experiences a potential piano student has with the instrument is through a concert. This is usually the moment when they are inspired to want to learn the instrument themselves. I can speak from experience as that's what inspired me to want to learn.
This is why it's a great idea to host a piano recital and invite as much of the community as you can. At the recital, you can play anything you want.
No matter how accomplished of a pianist you may be, it's always a good idea to cater the music to your audience in this particular instance. Play some popular favorites, folk tunes, pop music, and of course demonstrate some rigorous classical repertoire.
Doing so will give everyone in attendance something that they can connect with. If a person in the audience hears something they like, it just may be enough to inspire them to want to take lessons with you.
Another thing you could do during the concert is to get the audience involved. To do this you select a volunteer from the audience and teach them a simple two-note melody.
After a few tries, you can play a simple accompaniment with them. Involving your audience this way is a nice way to demonstrate some of your teaching skills and to show other that they can play the piano too!
3. Reach Out To Public Schools And Churches
Another form of outreach for getting more piano students is to contact local schools and churches. Schools are a great venue because they have the biggest population of kids.
Start off by contacting the music teacher and explain that you want to offer piano lessons to any students who would be interested. To sweeten the deal, you could offer to come into the school and teach free lessons, perform some pieces, or even assist with music class.
On a much wider scale, you could perform for the entire school in an assembly setting which can attract even more students at once. Make sure that you have a set of business cards and flyers available that the students can take home to their parents.
Reaching out to churches will follow a similar model as reaching out to schools. Try contacting the director of music, church secretary or pastor and explain that you're offering piano lessons to that community.
Most churches are willing to pass your information along to parents who may want to sign their students up. In many cases, churches actually have a need for full-time musicians to play their weekly services and rehearsals.
This is an opportunity to not only pick up some accompanying work but also to build a strong relationship with the congregation through service.
As a former church musician myself, I've found it much easier to pick up new piano students by being an active member of the congregation.
4. Encourage Families To Sign Up Each Sibling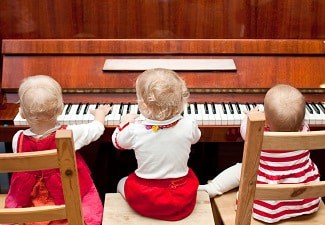 Some families only sign one of their children up for piano lessons and not the other. In this case, it's a wise idea to encourage parents to sign up all of the siblings even if they don't have a musical interest.
Not only is this a great thing for the family, but it's another source of income for you as a piano teacher.
Many times, children don't know whether they like music or not until they give it a try. A huge benefit of having siblings learn the piano together is having them perform and practice together.
You can have them work on joint repertoire together and then have them perform it at a student recital. They can even perform in group class together so that they don't feel like they're taking piano lessons on their own.
Older siblings can help their younger siblings with some of the more difficult parts of music during home practice. This really helps with teaching the younger kids because you can basically get a little extra help that way.
Learning piano together is a great thing, especially as a family.
5. Make Piano Lessons Available To Adults
To piggyback on offering lessons to siblings, why not take it a step further with the parents? I get a lot of joy out of having an entire family sign up for music lessons.
Parents are better able to help their children learn when the whole family is involved in the learning process.
This not only helps with pacing but you as a piano teacher can be comfortable knowing that the information you give to the parents will be taught correctly at home.
Even if you're not teaching an entire family, it's always a good idea to have some adult students in your roster. A lot of private piano teachers will actually neglect adult students because they don't have the patience. At the same time, many adult students think it's hard to learn the piano (it's actually not).
On the other hand, adult students are a good source of income. While they are a little tougher to recruit, having a few extra adult students will fill out a thin roster of piano students.
You might be surprised how many adult students want to start learning how to play the piano, and there's certainly a market for them.
The difficulty is keeping adult students on your roster once you've signed them up. With work and taking care of a family, sometimes adult students will miss several lessons at a time and eventually fizzle out.
I would encourage you to sign adult students up to long term plans so that they stay committed to piano lessons.
If you can sign an adult piano student up for at least three or four months at a time, the likeliness of them staying committed to the craft is much higher!
6. Offer Group Piano Lesson Programs
A good way to make piano lessons more appealing to families is to offer group lessons. Group lessons are a chance for students to get together and learn in a more social environment.
A typical group lesson involves ensemble playing, music games, student performances, and theory teaching. The games portion of group class really keeps the students engaged. Here are some group piano lesson games that you can try with your students.
Students also enjoy working on project pieces together with their friends and then performing them during the class.
In general, the more value you can offer with your piano lessons, the more students you'll be able to attract. Most group lessons are included as part of the normal piano lesson fee. This is the average amount piano teachers charge for lessons just to give you an idea.
7. Teach Other Musical Genres
You can attract more piano students by offering different genres and playing styles. Instead of only teaching classical lessons, you could offer Jazz and Pop lessons too.
For adult students, this is especially desirable because they enjoy upbeat music that is not so technically demanding. Here are a couple of piano lesson books that have a good mix of classical and alternative music styles.
8. Use Social Media
Social media is a powerful tool when it comes to having your voice heard. If something you share is interesting enough, others will share that content and the growth can be exponential.
This is why it's a great idea to promote your piano lessons on the following platforms.
Facebook
When it comes to Facebook, all you have to do is write up a simple post explaining what you do. Include a picture related to your piano lessons, and maybe even add in a catchy phrase to make the post more interesting.
Next, ask your friends and family to share the post so that more eyes can see it. I've been able to recruit plenty of piano students doing this alone, all without spending a dime.
Pinterest
Pinterest can be really useful as well. Pinning an image with piano keys and linking it to a helpful post on your website (more on this later) can lead to viral traffic if done correctly. Take a look at this post to learn some awesome ways to get traffic on Pinterest.
The thing to remember with Pinterest is that the image you post has a huge effect on what kind of response you'll get. If you take some time to create a great image with a compelling article, you could definitely recruit plenty of new piano students to your studio.
Remember that the majority of Pinterest users are female, so you can reach plenty of moms who have children interested in the craft. If you plan to teach some online piano lessons then this really opens up your opportunities to attract students from all over the world.
YouTube
With YouTube the possibilities are endless. You can film a short video of you playing something on the piano, or even share a video of you teaching a student (with their permission of course).
It's a good idea to post something interesting as well. Perhaps you can film a video explaining how to play a difficult piano piece, or even share some teaching tips that other piano teachers may be looking for.
I like YouTube because you can gain traction on your video there as well as anywhere else you share it. Heres an example of a YouTube video I share on other platforms to promote myself. A good combination is to share your piano videos on Facebook, Twitter, and Instagram too.
Eventually, someone will see your content, take an interest in it, and hopefully sign up to be a student!
LinkedIn
LinkedIn is the social media platform for professionals. While you may not directly reach piano students through this platform, you will definitely get connected to other teachers and music organizations on that platform.
Through these connections, you can get some nice referrals and grow your clientele this way.
9. Use Facebook Ads
Sharing piano videos, images, and content on Facebook is great, but you can take it a step further with advertising. Facebook ads are a simple way to promote yourself and gain new business.
With Facebook, you can target very specific demographics. Ads can be broken down to age, location, household income, family size, and even specific interests.
Piano lessons are quite inexpensive to advertise for on their platform if you drill down your audience to a specific location or state.
There are many resources out there to help you build a solid Facebook advertising strategy for your piano lessons. In order to run an effective ad campaign, you should have a website and Facebook business page created.
Post some interesting blog content or videos, and then find a way to plug your piano lessons into that content. The best part about these ads is that you can leave the campaigns running as long as you wish and set your own budget.
Think about what the value of a piano student is worth to you and operate within that budget. A student may cost $30 of advertising upfront to acquire, but they may provide you a consistent $45 per lesson down the road which is worth the investment.
10. Run A Classified Ads And Use Radio
Local newspapers and magazines are still great advertisement spaces for piano teachers. A classified typically costs $25 for running an entire weeks worth of ads. They are a low-cost option, yet highly effective for trying to reach locals.
The hope is that loyal readers of those publications will take an interest in your piano lessons. Outside of newspapers and magazines, ads can also be purchased in church programs, libraries, small business flyers, and high school football programs.
If you're really ambitious, you could also pay for time over the airwaves. Radio stations offer some of the best exposure for businesses and piano lessons are no different.
The premium ad slots may cost quite a bit, however, the number of leads your piano studio generates can definitely be worth it. I recommend running radio ads once you've already established your piano studio and are looking to expand.
11. Offer Trial Piano Lessons
I've never been an advocate for charging a fee during the first piano lesson. At this point, students have not had a real chance to get to know you. This is why I suggest offering a trial lesson.
Trial lessons are more appealing to some parents who are on the fence about giving their kids lessons but aren't ready to commit full time yet. Simply advertising that the first lesson is free will spark interest in those wanting to give the piano a try.
Especially if you are charging on the higher end for lessons, it can really help to offer the first lesson for free with no expectations.
As the piano teacher, you need to make a good first impression during this lessons to get a commitment from the student. This is also a great chance to get to know everyone, so it's a good idea to do a short interview with the family.
12. Attend Local Concerts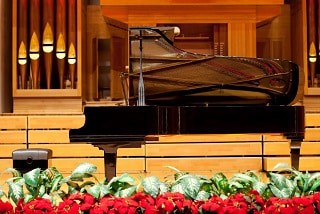 Connecting with other performers in the area is a good way to network. Whenever possible, try to attend a local concert. This is an opportunity to not only interact with the performers but also to interact with audience members as well.
This does not have to be a piano concert either, it can be any instrument that you find interesting. Ideally, you'll want to go to classical music concerts. A lot of the times you will find that the performers also have their own teaching programs and can refer piano students to you.
When dealing with chamber instruments like violins, for example, they are often in search of accompanists, so this is another way to find some easy side work as you grow your piano studio.
Local musicians who have successful studios can also share some helpful tips on how to build your roster too. They can help by suggesting people to contact, untapped areas, and much more.
13. Build A Website
A website for your piano lessons is an absolute asset. This is your best chance to branch out and reach an untapped audience through the world wide web.
Think of your website as a piano teacher portfolio. You can share your biography, write a mission statement for your piano studio, and even share helpful blog posts to help out fellow musicians.
Websites build credibility in the niche, so it's important that you present yourself in a professional manner. Your website should be clearly formatted, and easy to navigate. Make sure that you are clear about what piano lesson services you are offering.
Just having a website is only one step in the process, the next thing you need to do is send traffic to it. The quickest way to gain traffic to a new website especially is through paid advertising.
Some of the tools I mentioned earlier like Facebook ads, Google Adwords and online classifieds are a great place to start. You can also share your website on social media and even link your YouTube performances back to your website too.
The biggest thing you want to do is make sure that there is enough content there to get picked up by the search engines. The more helpful your content is, the better it will rank overtime, sending organic traffic to your page every day.
Lastly and most importantly, make sure that it's easy for website visitors to contact you.
Your phone number, email address, and any social media pages should be present on every page so that you can draw as many customers as possible to your business.
14. Advertise In Local Music Stores
A great way to reach those with a musical interest is to contact local music stores. From a mom and pops shop to a local chain, music stores are some of the best places to leave business cards and flyers related to your piano lessons.
Many times, music store owners will allow you to display your information for free as long as you return the favor. Very rarely do music stores charge fees for this unless the advertisement is going out in a company mailing like a weekly newsletter.
The best part about advertising in a music store is that you will attract a more desirable lead. Whoever sees your advertisement and decides to take piano lessons is going to have a higher level of interest rather than someone who just wants to test the musical waters.
15. Further Your Music Education
Sometimes attracting more piano students can only be achieved once you have a better reputation as a teacher. One of the best ways to achieve this is to further your education at either a college or through training seminars and music conferences.
In general, if all you have is basic teaching experience, but no college degrees, it will be harder to attract the kind of high-level students you want. It will also be hard to justify the cost of your lessons, even if you feel that time is worth that amount.
At the very least make sure to get a Bachelors degree in music. It helps to also have a performance certificate, and Master's or Doctorate degrees are preferred. The piano teaching market is very competitive, so it's almost a requirement to have a second or third level college degree.
With those degrees comes plenty of performing and teaching experience that you can only gather at a college campus.
Many universities have community music school programs so that college students gain teaching experience first hand. Not only is that experience invaluable, but it's something you can also add to your resume.
The number of awards, teaching experience, performance credits, and history you have in your teacher biography, the more students you will naturally attract. The idea is to appear as an expert in the field of teaching.
16. Enter Your Current Students Into More Competitions
The common trend in this article is to build a solid reputation. One way to easily do this is by entering your brightest students into more competitions.
Piano competitions of all levels work for this including local, regional, and statewide.
To really propel your students, it's a great idea to encourage them to join national and international competitions. If one of your students places well, that's something that you can draw plenty of attention to through press, magazines, more.
The more successful your students are, the better you look as an instructor.
In addition to competitions, this same method can be applied to examinations, college auditions, and other unique programs.
17. Relocate Your Piano Studio
Where you teach piano lessons has a huge impact on how many students you can teach. A difficult to reach location will attract fewer students rather than a centralized location.
When you're setting up a piano studio, it's important that you consider how the commute can impact someones ability to get to lessons. Are you currently located in an area where traffic is terrible during peak lesson times?
Perhaps your location is 5 miles too far to discourage parents from signing their kids up for lessons. Those are all legitimate concerns and may have a much bigger impact on your piano studio and the ability to recruit students than you think.
The other thing you need to consider is the visibility of your piano studio. There's a lot of free advertising that you can get if you're studio has roadside visibility.
Being located in a corner, or behind trees where you can't really be seen is only going to hamper your chances of getting extra eyes on your business.
If you're teaching in from home, then you also need to think about whether that's a desirable location to travel to.
Make a list of all the factors that impact someones ability to attend your piano lessons, and then make a decision about a more desirable location to transfer too.
Something as simple as moving 5 miles in one direction can boost the number of students you teach significantly.
Study the demographics of the area, and even run surveys to gauge the interest of different communities. Using that information can help make this decision a simple one.
18. Offer In-Home Lessons
When you're just starting out as a piano teacher, you may need to do some commuting yourself. There is a whole market out there for students who prefer in-home lessons.
This involves the piano teacher making a trip to their students home to teach lessons. As the piano teacher, you need to set limits on how far you'll travel, and when you will do that.
Doing this on a weekly basis can definitely lead to burn out. It involves a lot of miles, and gas usage. It's important that you only do this with a handful of students so that you don't become overwhelmed.
Because this is an often negated group of students, it's typically easy to pick up a few students by offering in-home lessons.
Eventually, you want to encourage students to come to your for lessons, and not the other way around. If you're just starting out though, this is an easy way to get more piano students because many teachers simply don't want to do this.
19. Offer Online Piano Lessons
Another untapped method for getting more piano students is to teach them online. By this, I mean Skyping your piano student and teaching through a webcam.
Webcam teaching is gaining popularity with piano students because of how convenient it is. They never have to leave their home, and they can get quality instruction from a certified piano instructor.
Scheduling is also automated in most cases where students can sign up for available time slots. What I also love about online piano lessons is that you can reach people all over the world and teach them, not just those in your community.
If you wanted to teach a student in China or India, that's entirely possible with internet technology.
There are a few downsides with online lessons of course. One issue is the possibility that your student may have a bad internet connection. This can lead to some delays during the lesson or bad sound quality.
Another issue is that online lessons generally cost less because the teacher is not physically in the room teaching the student. Outside of this though, it's a nice way to supplement your income if you're in need of a handful of students.
20. Offer Discounts On Piano Lessons
Offering the first lesson free is a great way to gauge a students interest. Discounted lessons can have much of the same effect.
Pick a few days out of each year and offer a limited time special for your piano student. If your lessons are normally $45, consider offering them for $25 for the first three lessons.
A simple discount like this will bring new students to your piano studio looking for the opportunity to study at a steep discount. Once they're in your roster, the goal for you is to keep them there.
Make sure that you offer the best piano lesson experience you can during the promotional period so they will continue studying when the price reverts. It's a wise idea to offer a discount like this while your piano studio has a lot of events happening.
This will give new students a chance to see how student recitals work, the benefits of group classes, and even watch you the teacher host a piano recital of your own. This is a chance to inspire them to continue studying with you.
Another idea you could try is offering a lifetime discount to a select number of new customers. The thing to be careful with is to not upset your existing customer base, so you'll need to offer an incentive of some sort to them as well.
Sometimes discounts can be done in conjunction with other businesses in the area. For example, if students take lessons with you at a normal rate, they will get a discount at a local pizza shop or music store in exchange.
If you do plan to work out a discount offer, make sure that it is well thought out. Discounts are an investment for a long term profit, so make sure you offer these promotions during a time you can afford to do so for your piano studio!
21. Hire More Piano Teachers
There comes a point where piano teachers cannot take more students because their roster is already full. In this case, I highly recommend hiring more piano teachers to help you get more piano students.
When you hire new teachers, it's a wise idea to train them in your teaching philosophy so that you know your students are progressing the same way as if you would teach them.
This includes training meetings, suggesting teaching materials, and weekly checkups on student progress. Make sure that when you hire teachers that you can properly fill out their teaching schedule. It's best to do this when you have a waitlist of students.
22. Provide Quality Instruments In Your Piano Studio
The quality of the pianos in your piano studio matter. Especially with a small community, word of mouth will get around if your instruments are not in great playing shape.
If prospective students hear that you have terrible instruments, that may deter them from even calling to sign up for lessons in the first place.
Usually, the piano studios with the most students are the ones who have the best instruments. Parents who are investing in lessons have a desire for their kids to play on the best instruments.
As a teacher, you also have to understand that better pianos lead to better development musically and technically. Making this a priority is important because it can have a really good impact on the reputation of your piano studio overall.
The same logic can be applied to your student and faculty recitals as well. You want to make sure that whatever venue you rent with has quality instruments and facilities all around.
Spending the extra few hundred bucks to upgrade to a Steinway over an old Kawaii will have a huge positive impact for you.
23. Having Quality Teaching Facilities
The quality of your teaching facilities matters to potential students. No student wants to study at a small house when they could go to a state of the art piano facility.
Consider the amount of teaching space you have now and whether it's providing the best experience possible.
Teaching out of the home is a great start, but for long term teaching, it is not ideal. As you expand you should consider renting or purchasing a dedicated space for teaching.
The facility needs to be of quality and provide comfort to both the students and parents. It's a good idea to have a lobby and comfortable waiting area with chairs and tables for parents.
The pianos as we mentioned earlier need to be the best that you can afford for the studio.
There also needs to be plenty of space in each teaching room so that you can comfortably walk around, or even add a second piano into that room. If you plan to hire faculty, then they should also have a room of their own to teach in as well.
This is definitely something to consider as your studio grows and you want to really make it big. Something as simple as where you teach and what resources you have available there can have a significant impact on your ability to recruit new piano students.
24. Join A Customer Referral Service
There are many businesses to peer services out there that work well for piano lessons. Services like Thumbtack and Angie's List basically build leads for piano teachers.
All you have to do is set up a profile and then list the service you are offering. In your profile, you're able to add in your complete bio, add pictures and location information, and even the rate that you want.
When the company receives an inquiry from a potential lead, they'll forward you that information in which you are able to send a quote directly to that customer. All of the communication is handled through the service in which you'll have to pay a small fee.
Once the deal is closed you're all set up with a brand new student.
These services can be good for a piano teacher just starting out, however, I find running your own classified ads or Facebook ads to be more cost-effective. If you're looking for a solution where a company will find the leads for you though, then this is a good option.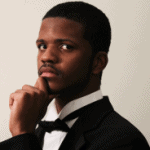 Hello & thanks for stopping by! I'm a professional concert pianist and piano instructor. In the United States, I've given successful performances in several places including New York, Florida, Connecticut, & New Jersey, I have also performed internationally in Italy and made my Carnegie Hall debut in 2014. I enjoy blogging about the piano, the art of performance, general music, current events and the latest in music production.