As an Amazon Associate I earn from qualifying purchases.
Pianos are some of the best long lasting investments one can make. For most pianists, there comes a point in time when you need to know how to get rid of a piano. Whether you're downsizing in the home or looking to upgrade an instrument if you can get some value for your instrument that's always a positive.
Getting rid of an instrument like a piano can be tricky, mostly because you need to try to recoup some of your initial investment. In this article, I'll break down how to get rid of a piano in 8 simple ways. I'll describe what you should look for in a buyer as well as what to do when you cannot find someone to purchase the piano from you.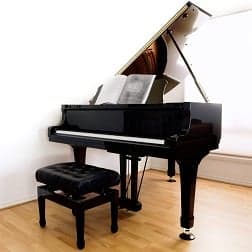 Interested in quality digital pianos for easy learning? You can find them by clicking here#ad
1. List The Piano For Sale Online
The easiest way to get your piano some attention is by listing it for sale online. There is a wide range of marketplaces to choose from. While services like Craigslist and eBay have been known for their good results, a new up and comer is Facebook Marketplace.
The Facebook marketplace is especially good because buyers can connect a face and profile with the sellers. It's incredibly easy to list your items, pick a buying price, upload pictures and put a clear description.
You can even list your instrument by location, condition, and much more. Because Facebook is a social media platform, good pictures or videos of your instrument will increase your listings shareability.
You can also run paid Facebook ads to your marketplace listing to help it gain more traction. Something to keep in mind with any online listing is that you will come across mostly bargain hunters looking to get a deal on your piano.
When listing your piano online, make an effort to take the best pictures you can. Most smartphones are equipped with excellent cameras that will get great details and even compensate for poor lighting.
Also be transparent about the condition of the instrument. For example, if there's a huge scratch on the fallboard, make sure to make note of that in the description.
The last thing you want is for a buyer to come to see the piano and find that it's not what they thought it was going to be.
I recommend purposely listing your instrument a few thousand dollars above your desired price range. This will allow you to negotiate a fair asking price for the instrument once you find a potential buyer.
Sometimes listing can stay online for a while, especially if the instrument is on the more expensive side of the spectrum. A good idea to help get it moved is to list it lower than other competing sellers so that it can gain some traction.
An average listing will get serious inquiries in as little as 3 days but expect to wait at least 2 to 3 weeks before you can expect to move it. If you need to sell your piano quickly, then it may be wise to check out my next tip; asking those you know personally.
2. Ask Friends, Family, And Students
If you have family and friends who are interested in purchasing a piano, then they may be willing to take yours. The great thing about selling your piano to someone you know personally is that you know the instrument will be in good hands.
It's even a good idea to ask your neighbors whether they would want to buy your piano.
If anything, you could at least give the piano away or discount it substantially if you don't care too much about making a profit.
For those running a piano teaching studio, you could even ask students of yours if they are interested in pianos. Most students only have digital piano keyboards so it's an appealing offer.
The real serious students would definitely be interested in purchasing your instrument if the price seems fair.
3. Offer To Pay For The Piano Movers And Tuning Fees
Whether you're selling the piano online or offering it to a friend, most people don't want to deal with the hassle of moving and tuning the instrument. Simply throwing this in as an incentive will increase your chances of getting rid of the piano.
Most piano movers charge $500 to move a piano locally. For long-distance moves, you can expect to pay at least $2000 or more. I would suggest only doing this for local moves.
You could even work the moving costs into the price of the instrument so that you're actually not out of any money.
Tuning the instrument is a kind gesture that you could throw in. Most piano tunings cost at least $150, so it's a nice way to sweeten the offer.
4. Trade Your Piano In For A New One
I'm not a fan of reselling a piano back to a music store, however, sometimes that's the only option available. Much like trading in a car, pianos also have some trade in value.
While you're not likely to get anywhere near what the instrument is worth, piano stores are more than willing to take the instrument off your hands.
There are some benefits to selling your piano back to a music store. You can choose to receive your payout in cash or store credit which is nice. The other benefit is that most stores will pay the piano moving fees for you which can save at least $500.
Regardless of your model and make and what the condition the piano is in, these stores will want the instrument.
If you're not sure how much your piano is worth, check out the Bluebook of pianos here. This guide will help you in the negotiation process with music stores especially.
Be sure to only use this option as a last resort. You will easily get much more for the instrument if you sold it yourself online or to someone in the community.
5. Call Your Local Piano Technician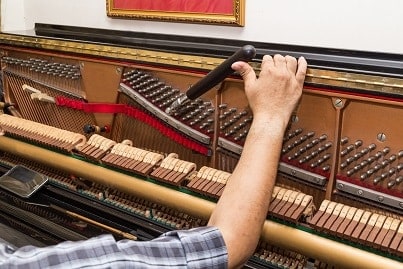 Piano tuners are experts when it comes to repairing and regulating instruments. Believe it or not, most piano tuners are accomplished players themselves.
It may be worth letting them know that you are making your instrument available for sale to gauge their interest. When dealing with a tuner, you're more likely to get a fair price for the piano because they'll have a good idea of what it's true value is.
Piano technicians will be able to inspect the instrument thoroughly as well, so it's much easier to sell it to them than you would someone else. Even if your piano has a lot of issues, a technicians mindset is all about fixing it up anyway.
6. Donate Your Piano To A Local Charity Or Church
If you're not interested in selling your piano you could always just give it away. There are plenty of local charities, churches, and schools in the community that would be willing to accept your instrument.
The good news is that if you donate the piano you'll be doing a great service to a group of people who really need it. In most cases, you can expect that they'll take great care of the instrument and make good use of it.
Donating a piano is also a tax write off, so this can help in that regard too.
In addition to donating locally, there are many national organizations that will accept your instrument. Consider working with hospitals, senior living communities, colleges, and even local piano studios to see if you can fill a need.
7. List Your Piano at PianoAdoption Or On Piano Forums
There are many other online communities where you could list your piano for sale or free. The first option is PianoAdoption.com. This is a website that allows you to list your piano based on location.
While not the most active community, it's likely your listing will get some attention and you'll be able to hopefully get rid of the instrument.
You could also make use of the Pianoworld and Pianostreet forums. These are huge music forums dedicated to all things piano related. There are various discussion boards to choose from and chances are you will find a lot of interest there in your instrument.
The audience on these forums are very educated about the piano, so make sure to be transparent about your instrument.
You can also get great advice on the discussion boards to know how to price your instrument, and even build leads for other potential buyers who need a piano. The networking opportunities are plenty on these two forums in particular.
8. Use A Junk Removal Service For Piano Removal
If you really can't seem to give your piano to anyone, you could always use a junk removal service. These services use garbage truck like vehicles to haul heavy equipment to junkyards and dispose of them for you.
Most services charge you a flat rate fee depending on how much of the vehicle space is filled up. For example, if half of the truck is full it may cost $300, vs $125 if the truck is only a quarter of the way full.
If you're only moving a piano then this is going to be a relatively cheap expense for you. Because you're not trying to protect the instrument in any way, there's not the standard $500 worth of moving fees to properly wrap the instrument, unscrew the legs, and other specific procedures.
Instead, you'll work with a team of two people who will lift your instrument into the truck by any means necessary.
If you're moving your piano because of downsizing, then it makes sense to take advantage of the junk removal service and get rid of other items you don't need as well.
Related Questions
How Much Does It Cost To Get Rid Of A Piano? Getting rid of a piano in most cases is free to do. The costs of moving the instrument are the buyer's responsibility. Some costs you may incur include paying a certified piano technician to evaluate the instrument before you list it for sale. Instrument repairs are also a potential cost depending on how much value you want to get for the piano.
Can You Donate A Piano? Yes, you can donate a piano. There are several piano donation websites online. In addition, you can donate pianos to local music societies, churches, underprivileged communities, and even a local youth center.
How Do You Dispose Of A Broken Piano? When a piano is broken beyond repair, it's time to get rid of it. You can dispose of the piano through a junk removal service. The other option is to donate the piano to a group who is willing to fix it. You could also dismantle the instrument into smaller parts and throw it away.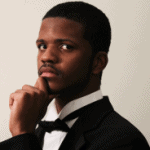 Hello & thanks for stopping by! I'm a professional concert pianist and piano instructor. In the United States, I've given successful performances in several places including New York, Florida, Connecticut, & New Jersey, I have also performed internationally in Italy and made my Carnegie Hall debut in 2014. I enjoy blogging about the piano, the art of performance, general music, current events and the latest in music production.