As an Amazon Associate I earn from qualifying purchases.
Piano lessons are a valuable resource for pianists who want to be successful at the instrument. The reality, however, is that piano lessons are not just a commitment of time, but also a substantial financial investment. Many people ask how much do piano lessons cost, and that really depends on what you desire in a piano instructor.
So, how much do piano lessons cost? The average piano lesson costs between $30 – $50 in the United States. Lessons with less experienced teachers can cost anywhere from $15 – $25 per half hour. Piano teachers with extensive performing backgrounds, degrees, and reputation charge as much as $100 per lesson.
Now that you know how much piano lessons cost on average, you might be wondering what factors determine those costs. The pedigree of the instructor down to the location of the lessons all plays a part in the overall costs. Let's take a deep dive into how piano lesson prices are developed and some awesome ways you can save money on piano lessons.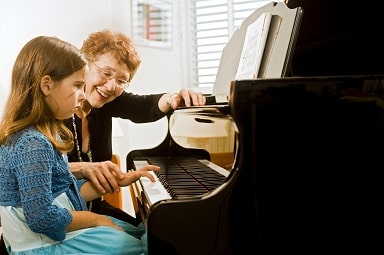 Interested in quality digital pianos for easy learning? You can find them by clicking here#ad
Teacher Reputation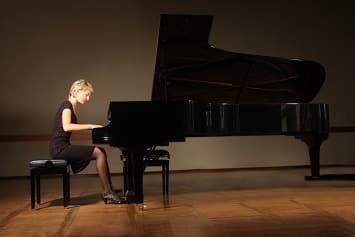 The biggest driver in piano lesson costs is the reputation of the teacher. Piano teachers with a music degree have more leverage to charge based on that experience.
Besides, a teacher with a degree will be more punctual, have a deeper knowledge of music theory, and ultimately more professional training from college professors.
Teachers with master degrees can charge even more money; usually north of $60 per hour-long piano lesson. These instructors are not often sought out by beginner pianists, but mostly by advanced players looking to really take a major step forward with their playing.
Some teachers also have extensive performance experience and awards to their name that make them highly acclaimed. It's not too uncommon to see Carnegie Hall or a prominent music festival mentioned in a piano teachers credentials.
Teaching is a very lucrative career and it pairs well with performance work; often times a necessary supplement for some very accomplished musicians.
There is a flip side to all of this too. Teachers who do not have much experience or degrees tied to their name charge cheaper prices for piano lessons.
You will typically find these teachers at music stores located in the mall or small family run facilities. These lessons can be as cheap as $15, and it's often a situation where you get what you pay for.
Students who pay that little for lessons often get poor training and need a lot of remedial work to fix the issues they'll develop. As someone who does not know right from wrong when receiving a music lesson, it's usually too late to know if the lessons are working until after a significant investment has been made.
If you want to know how to choose a piano teacher the right way, read this entire article.
Length Of The Piano Lesson
Another big determining factor in the cost of piano lessons is the length of the lesson itself. Most piano lessons last at least 30 minutes long. There's a lot that a piano teacher can teach in that period of time.
That includes technique, repertoire, new concepts, and filling out next weeks assignment. Most elementary students ages 5 and upward
Longer lessons will, of course, cost more money. These lessons are usually booked by older students, but young students with advanced skills will sometimes opt for 45-minute lessons.
High school, collegiate, and adult students almost always take 60 minute piano lessons. At this point, the price of the lesson is as high as it will be. The pianist taking those lessons is old enough and dedicated enough to handle that type of lesson.
Where The Lesson Is Located
It's still very common for piano lessons to take place in a piano teachers home studio or garage. Depending on your community, there are some piano academies, malls, and music centers dedicated to the instrument.
It should be expected that if a piano teacher has to travel to you, that you will need to accommodate for that as part of the overall lesson fee. Some teachers will travel for free, but that's a rarity.
Most piano teachers will only travel within a 5 to 10-mile radius to their lessons. If teachers have to travel further out, then this leaves you stuck with a limited amount of dates and times to take lessons with your instructor. Expect to pay more for lessons if you live further out.
Generally speaking, the cheaper lessons are often found at local music stores and piano dealerships. The reason for this is not necessarily the quality of the lessons being worse, but mostly because the dealerships want to end up selling an instrument to you in the near future.
If you take lessons at a prestigious music academy you can expect to pay a little more just because of the reputation of the place. Schools that teach RCM exams, do college prep, and offer group and other preparatory courses will always cost a little more.
These are generally the preferred places to study the piano but definitely are a serious investment.
Competitiveness In The Teaching Market
Most piano teachers set their prices in accordance with their local market.
For example, if you lived in Naples, FL you could probably take piano lessons for as little $35 per lesson. Compare that to the market in New York City where lessons range anywhere from $50 – $100 even with average instruction.
Piano teachers do their research so that they can charge prices based on the demographics of their location.
Sometimes when a piano teacher needs to fill their roster with more students they'll lower their prices. This is a strategy to undercut other professionals in the area, and as a prospective student, it's something you'll want to take advantage of.
There's always a healthy supply of great piano teachers no matter where you live. Take your time and shop around for piano lessons that you feel you can afford. If things don't work out, you could always go with another teacher.
Teacher Demand
Teacher demand works in different ways when it comes to musicians.
If you live in a location where there are not enough piano teachers to go around, then chances are you could be paying a bit more for those lessons.
Teachers who have cornered their market may raise their prices because of this. If they were to lower their prices, then every student in the area would try to take those lessons. While more students generate more revenue, every teacher has their roster limits.
Then there are big cities like New York City where studying with a prominent teacher is rare. When an opening arises, every talented pianist wants to flock to that teacher hoping to gain their wisdom.
Because there's only so much time that can go around, these teachers will charge pretty steep prices in order to study with them. It's not uncommon to hear prices north of $200 per hour for the expert advice of an accomplished musician.
Supplemental Lessons
Group piano lessons are becoming more common in today's piano lessons. They are actually one of the many benefits of playing the piano. Teachers recognize this, and therefore offer these supplemental classes as part of their overall lesson tuition.
For a flat fee, students can take advantage of these classes, interact with other students, and receive additional instruction that is crucial to their development as young musicians. Piano teachers with degrees and extensive knowledge will also offer theory class, training camps, and more.
I find that purchasing piano lessons that also offer these supplemental classes offers much more value for the price. If you choose not to take those classes you can sometimes negotiate the price of tuition and just pay for the instruction that you want.
Other Costs Associated With Piano Lessons
Besides the teaching itself, there are a few other costs associated with piano lessons. This includes materials like:
Practice Folders
Writing Tools
Sheet Music
Metronomes
Piano Maintenance
Music Society Memberships
Recital Fees
Most teachers require some sort of practice folder or binder for each student. This is where they'll keep all of their assignment sheets, practice notes, and other supplemental materials all in one place. It's also a good idea to keep pencils in there to make quick notes during a lesson or during a home practice session.
Sheet music and metronomes are probably the biggest expenses. The more music you want to learn, the more you'll have to purchase. With resources like IMSLP these days, you can actually print free sheet music online. Metronomes are a helpful practice tool for keeping rhythm; you can check out some of the best metronomes for music here.
Another common expense if you plan to take your piano lessons seriously is piano maintenance. Teachers will require that their students keep their pianos tuned regularly so that they can be at their best in the lesson. Here's how much a piano tuning usually costs.
For students looking to branch out in the community, there are plenty of local music societies to become a part of. MTNA also has a huge state and national presence. Check MTNA out here.
The last expense many piano students overlook are the recital fees. When a teacher has a large piano studio, they love to give students an opportunity to show their work in performance. A typical recital venue can cost anywhere between $1000 – $3000 to rent for a few hours.
To help with the costs, the piano teacher will charge a recital fee per student, and then secure a sponsor for the rest of the costs. These fees usually cover the venue rental, concert programs, videography, photography, and student achievement awards.
How To Save Money On Piano Lessons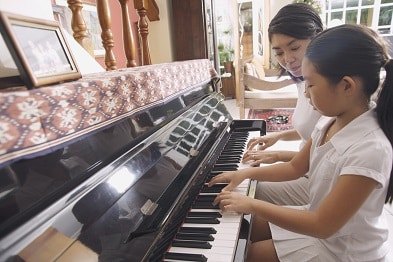 Sometimes the cost of piano lessons can be a bit much. This is why many teachers offer various payment plans, group teaching discounts, and more to bring in students for a lower price. Here are a couple of ways you can save money on piano lessons.
Try Online Piano Lessons
While I'm a huge advocate for in-person piano lessons, there is a lot to be happy within the online version of this. To learn about the biggest differences between online and in person piano lessons read here.
Now, there are a couple of ways you can take online piano lessons. One way is to take a comprehensive course that you can always access on your free time.
This sort, of course, is usually a big upfront fee, but it's only paid once and overall is a much bigger savings than paying for private lessons. I recommend this piano course if you want to improve your piano playing.
The course material is all accessed online, and you can pace yourself and even reach out to your instructor for an additional fee.
The next option with online lessons is to take them using Skype or another video communication software. This is probably as close as you can get to a real in-person lesson.
Taking online piano lessons offers a nice discount, and you still have the opportunity to work with highly qualified teachers for a fraction of the price.
Sometimes there are internet connection issues, and there's always going to be a delay in receiving instruction and microphone issues.
With some maneuvering that's actually a reasonable option for someone looking to get their feet wet with piano lessons before committing to an in-person teacher.
Attend Piano Lessons Less Frequently
An easy way to save money on piano lessons is to simply attend fewer lessons. Most beginner pianists take lessons at least once per week. Taking lessons every other week could cut your costs in half.
The downside of taking lessons less frequently is the potential to make more musical mistakes. Perhaps there's a passage of music you're playing with the incorrect fingering or articulation or improper technique. In my experience, it's best to have a teacher looking after your technique and musical development as often as possible.
If you do plan to take piano lessons less frequently, then it's actually a better idea to communicate to your instructor that you want less of a workload. Pianists develop best with a slower approach focused on accuracy and solid execution.
If your teacher normally assigns five scales per week, consider asking for two instead. Maybe take on fewer pieces overall so that you can focus all of your energy on doing your best with the music. Also, make sure that your teacher assigns you challenging works, but something you could easily figure out on your own with some effort.
Pay Lesson Tuition Instead Of Individually
Many piano academies and specialized music businesses will offer the option to pay tuition upfront. This means you can pay for lessons in increments of a month, six months, and even up to a full calendar year in advance.
For the piano teacher that's preferred because that means they have a firm commitment from the student.
This also allows piano teachers to offer substantial discounts for prepaid lessons. Many times if a student misses a lesson, the teacher does not have to charge a fee because everything is already prepaid.
Take Piano Lessons As A Family
Other situations where you might see discounts on lessons is if siblings are taking piano together. For example, some teachers will teach entire families and offer them complete packages including group lessons.
For the teacher, it's a win because what they charge is relative to what they think their expertise is worth. For example, if they give a discount to a family of 4, they've still secured more students then they would have to take on just one individual and refusing to cut them a deal.
Take Piano Lessons More Frequently
Much like taking fewer lessons can lower your costs, so does taking lessons more frequently. While more money is being spent this way, overall there can be more savings because of how often you are choosing to take lessons.
The cost of piano lessons can be greatly swayed by the frequency in which the lessons are taught. Some teachers will teach students multiple times per week for a modest discount. Rather than paying $45 for a half hour lesson, you might be able to get two lessons for $80 instead.
Taking lessons multiple times per week depends on the level of the student, and how quickly the parent wants their child to advance. You typically see adult students take multiple lessons per week because the learning curve is not as steep.
Adult students can usually handle more material within a week, and having multiple lessons is a way to hold themselves accountable by meeting quick deadlines.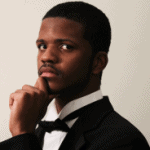 Hello & thanks for stopping by! I'm a professional concert pianist and piano instructor. In the United States, I've given successful performances in several places including New York, Florida, Connecticut, & New Jersey, I have also performed internationally in Italy and made my Carnegie Hall debut in 2014. I enjoy blogging about the piano, the art of performance, general music, current events and the latest in music production.