As an Amazon Associate I earn from qualifying purchases.
When you're first starting out at the piano it can be daunting to learn all the notes and rhythms. That's why it's important to have easy starter piano songs to make the learning experience fun and rewarding.
Here is a complete list of 17 starter piano songs for beginner pianists:
Twinkle Twinkle Little Star
Frere Jacques
Hot Cross Buns
The Entertainer
Chopsticks
Heart And Soul
It's A Small World
C Major Scale
Happy Birthday
Yankee Doodle
Fur Elise
Row Row Row Your Boat
Canon In D
Bingo
Old Macdonald
Jingle Bells
Ode To Joy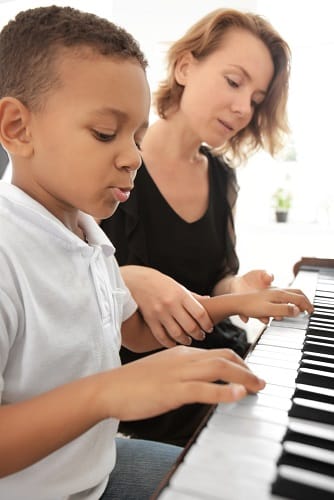 As you can see, rather than give you a list of random songs, each of these has been analyzed to make sure they are achievable for a beginner to intermediate pianist. On this list, you'll find a lot of variety from childhood favorites along with Classical favorites. There are also a few pop tunes on this list so that the piano playing experience will be fun for you. I've also linked out to some helpful videos as well as useful sheet music arrangements worth getting started with.
Interested in quality digital pianos for easy learning? You can find them by clicking here#ad
1. Twinkle Twinkle Little Star
Twinkle twinkle little star is an old favorite for kids and adults. The melody is quite simple to memorize because of it's repetitive features. You can play this song in many keys, but I've found that keeping it to a simple C major position works best. For beginner pianists, it's probably best to play this song with the left hand and right hand sharing the melody line.
Below is a quick breakdown of the melody line the pianist plays:
C C G G A A G
F F E E D D C
G G F F E E D – repeat
C C G G A A G
F F E E D D C
Right away you can see that the first two lines and the last two lines of the melody line are completely identical. That takes a lot of stress off beginners. The only part that is new is the third line, but even that line is repeated. If there is one area that might prove to be a bit challenging, its the fact the pianist has to stretch an interval of a 6th to hit the two A keys.
A workaround for this is to simply split the notes of the melody up between both hands. An ideal set up of the hands would have the left hand covering the C D and E keys. The right hand can cover the remaining three white keys; F G and A. The finger numbers for both hands would be 1,2,3.
2. Frere Jacques
The melody to Frere Jacques is quite repetitive and sequential. This makes it easy for beginners because that also means the same finger patterns can be transferred from one key to the next. If you were playing this in C major, the right hand would simply be playing C D E C two times in a row followed by E F G two times in a row. The same fingering of 1, 2, 3 can be used for both of those short phrases.
The song can be played with one hand, but it works better to split the parts up so that the left hand can help with the back half especially.
3. Hot Cross Buns
Hot Cross Buns just might be the easiest piano selection on this list. It only takes three notes in total to play this song. Because it's made up entirely of whole steps (a collection of two half steps), you can also play this on the black keys too. Many popular music books right this using the group of three black keys and fingers 2, 3, 4. If you want to play this on the white keys you can do so, but try to avoid D, E, A, and B as your starting notes.
Because this song is in a major key, you would need to combine white and black keys which adds an unnecessary amount of difficulty for a new pianist. Most starter piano method books contain this piece or some variant of it in the early stages of playing. You should check out these beginner piano books to find the right level for you.
4. The Entertainer
This Scott Joplin tune is wildly popular in movies and television. It's a ragtime tune that's fun for pianists to play, especially for beginners. There's some interesting history behind the composition. It was written in 1902 and was a popular tune sold on player pianos in the early 1900s. It follows a popular two-step dance form that starts in C major, modulates in the middle section, and eventually returns to the tonic key. It also follows an interesting musical form which you can learn about here.
There are a lot of good arrangements of this one available. Even the watered-down versions still find ways to preserve the melody and feel of the ragtime tune along with the harmonies.
The version I recommend checking out is this one.
It's not too challenging and it's about three pages long. Another Scott Joplin tune you might want to also check out is the Maple Leaf Rag which you can listen to be being played below.
5. Chopsticks
I first heard Chopsticks in the movie Big with Tom Hanks. It's a well-known waltz from the late 1800s, and still carries quite a bit of popularity in today's culture. This piece is also used commonly as a warmup exercise for young pianists because it only uses two fingers.
Eliminating the need for using multiple fingers makes the tune really easy to digest. In this case, use both of your index fingers and play the correct sequence of intervals to get the song down. For a detailed tutorial on how to play Chopsticks, check out this post.
6. Heart And Soul
If you're an adult pianist looking for a jazz tune this is a good place to start. Not only is it a fun piece to do as a solo, but it's a very popular piano duet for beginners. Make sure to read about some cool strategies to learn it quickly as a duet here. You can also watch the video below to get an idea of how easy this piece can be on the piano. It really can be one of your first piano pieces if you've got a solid rhythm!
7. It's A Small World
This is a Disney classic that can easily be played on the white keys starting on C. Below is a basic breakdown of each line of the verse.
C C E C D D D
D D F D E E
E E G E F F F E D
G F E D C
As you can see, there's a pretty clear pattern of the pitches between lines one and three. You can split the piece between both hands, or use the right hand to play those notes, scooting upward as needed and using the same fingers.
8. C Major Scale
This is not really a song, but you can make it one with a bit of creative thinking. The C major scale is one of the first scales taught to piano students because it's the most straightforward one to play. The basic finger pattern of a scale uses 123 followed by 12345. Yes, the thumb will cross under the third finger, but within a few tries, you should able to accomplish that. Because the C major scale is made up entirely white keys, the pianist's biggest goal is to get from one C to the next. They can also play the scale backward starting with the fifth finger.
There are a few ways to spice up the scale to make it more exciting. Some piano books include light accompaniments of popular songs that work with the C major scale. Twinkle Twinkle Little Star, for example, can be played with the C major scale. The scale would move at half the speed of the accompaniment so everything fits. You could also experiment with faster note values like eighth notes and even sixteenth notes once the scale is more familiar to you.
Learn more about playing piano scales here.
9. Happy Birthday
Happy Birthday To You is one of the first songs new pianists learn. Usually, it's taught by rote; copying what someone else tells you to do. The song can easily be played with just the index finger only for the entire duration, but it's nice to use some proper fingering when working through it.
This song also features some syncopated rhythms, usually a dotted quarter note. It helps to be familiar with that rhythm before attempting to read sheet music versions of it. On the other hand, it's quite simple to figure the rhythm out even if you're not well versed in dotted rhythms because the song is a staple in human culture.
There are some great arrangements of this song available although some versions remove the syncopation so the song can sound a bit dry. Because this song is categorized in the celebration/holiday style of music, I would suggest getting it along with a collection of other songs. This Hal Leonard book has a collection of celebration music that includes holiday music and much more. It also includes Happy Birthday and the arrangements are easy to read.
10. Yankee Doodle
Another folk classic, Yankee Doodle is easy for new pianists to understand. While some arrangements have this written in eighth notes, it's very common to see it written in common time. That's four quarter notes per measure. It's a simple melody based in C major.
C C D E C E D G
C C D E C B
C C D E F E D C
B G A B C C
If you want a bit of a challenge then you can add in the second part of the verse. This explores the subdominant key but still comes back to C major every other measure. This part also has syncopated rhythms which make it a bit more interesting. It's easy to understand if you already have an ear for the song, and you can basically sing your way through as you play.
A B A G A B C
G A G F E G
A B A G A B C A
G C B D C C
11. Fur Elise
Fur Elise is just about any intermediate pianists first Beethoven piece. The original version starts in A minor, but it does present some real challenges. though, The middle section goes to F major but also rests in the dominant of that key for a spell too. Dealing with the modulations might be tough for a beginner pianist let alone the technical challenges that come with it.
Thankfully, the piece is so well covered and published that there are some excellent beginner arrangements of it available. This Hal Leonard version really captures the essence of the original, but without some of the tough technical sections. The First Book Of Beethoven by Alexander Cole has a complete set of popular Beethoven pieces. Fur Elise is also among one of the specially arranged pieces in the book, so it's a real bargain. Check that out here.
12. Row Row Row Your Boat
The easiest starter piano songs are the ones that focus on childhood favorites. Row Row Row Your Boat is one of those songs that you just never forget, and so it's even more enjoyable to play at the piano. You can play this song in just about any key you want. I suggest trying this tune in C major or G major so you can avoid using any sharps and flats.
Simplifying the melody and performing the whole song on just the white keys is the way to go. The one area that might be a bit of a challenge is on the part of the song that repeats the word "merrily". This is the part where the pianist needs to jump their hand up an octave and then descend on repeated notes. Those notes are unique because they actually outline the tonic arpeggio.
Below is a helpful YouTube video that shows you exactly how to play the song without too much effort. It does a good job of breaking down where that octave leap is and just how much distance the pianist has to cover from a visual standpoint.
13. Canon In D
Pachabels Canon In D is played frequently at weddings. The original version can get quite dicey with technical aspects of playing though. Many of the simplified arrangements avoid D major altogether. They'll write it in C major or even G major to make it more attainable for beginners.
14. Bingo
Need a quick favorite to play? Try Bingo!
15. Old Macdonald
A childhood classic is Old Macdonald. It's simple and to the point, so I don't imagine too many issues coming from this piece.
16. Jingle Bells
During the holiday season, there's plenty of music in the air. While most of the Christmas tunes you hear are simple to sing, they aren't always easy to play. Jingle Bells is the exception though because the actual melody line is extremely repetitive. The verse can easily be played with just a basic five-finger position in G major or C major.
Check out this video below to see how easy Jingle Bells can be with just a little bit of work.
17. Ode To Joy
Need another Beethoven piece not named Fur Elise? Ode to Joy is just the one for you. It's got an incredibly memorable melody which can all be played in the right hand. The left hand will play all of the bass notes so that the harmonies flow. This song has a bit of flair and elegance to it. It should be performed with good energy. As you start to develop your playing more, start experimenting with building larger more complex chords in both hands. Below is a video to help you get the gist of this tune.
Things To Consider When Choosing Starter Piano Songs
Hopefully, this list of starter piano songs helps steer you in the right direction. While there are plenty of songs on this list, the reality is that the easiness of a piece of music is very individual from person to person. As I came up with this list though there are a few general things that I took into account so that a standard of difficulty was set.
The majority of the selections on this list don't use accidentals in the sheet music or within the key signature. Some of the more complex classical works will though. You may also want to familiarize yourself with basic scales and fingerings before trying some of those out. The range of hand movement was also a consideration too. Many of the pieces on this list can be split between both hands or they will maintain the same five-finger position. The pieces also don't feature many instances of modulations to other keys which is also important.
Rhythmically, everything is pretty straightforward and keeps a consistent meter. Occasionally some dotted rhythms and syncopation are present, but if the tune is really popular it should not be problematic.
As you sort through these pieces and choose future music, keep those things in mind, especially if you're a beginner!