As an Amazon Associate I earn from qualifying purchases.
Learning piano can be really simple with the right teaching books. There is a pretty big distinction between adult piano method books and ones for children though. Most books geared for children move too slowly for adults. Adult teaching books are designed with a faster pace, and they are able to introduce certain techniques sooner than books for younger students.
Below is a complete list of the best piano teaching books for adults.
Piano Jumpstart by Joshua Ross
Alfred's All In One Course Level 1
Bastien Piano For Adults – Book 1
John Thompson's Adult Piano Course
Hal Leonard Jazz Piano Method
Frances Clark Musical Fingers Books 1 – 4
Frances Clark Keyboard Musician For The Adult Beginner
Alfred's Group Piano For Adult Students – Book 1
American Popular Piano By Christopher Norton
Adult Piano Adventures – Book 1
The Classical Piano Method Book 1
Frances Clark Technic Time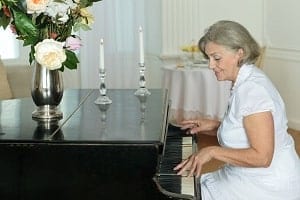 Each of these books has all of the essential tools needed for becoming a proficient piano player. It helps to study these books with a teacher, but they are designed for self-learning as well.
Below is how I would classify each of these method books by difficulty level:
| Adult Piano Method Book | Difficulty Level |
| --- | --- |
| Piano Jumpstart by Joshua Ross | Beginner |
| Alfred's All In One Course Level 1 | Beginner to Advanced |
| Bastien Piano For Adults - Book 1 | Beginner to Intermediate |
| John Thompson's Adult Piano Course | Intermediate |
| Hal Leonard Jazz Piano Method | Intermediate to Advanced |
| Frances Clark Musical Fingers Books 1 - 4 | Beginner |
| Frances Clark Keyboard Musician For The Adult Beginner | Beginner To Intermediate |
| Alfred's Group Piano For Adult Students - Book 1 | Beginner To Advanced |
| American Popular Piano By Christopher Norton | Intermediate |
| Adult Piano Adventures - Book 1 | Intermediate to Advanced |
| The Classical Piano Method Book 1 | Beginner |
| Frances Clark Technic Time | Beginner |
Now that you have a chart, it's time to go into detail on each book below so you can get an idea if it's the right method book for you. Let's start off with my favorite piano book for adults, Piano Jumpstart!
Interested in quality digital pianos for easy learning? You can find them by clicking here#ad
Piano Jumpstart by Joshua Ross
If you're looking for an adult piano method book that is informative, concept-based, and well-formatted, then you need to check out Piano Jumpstart.
This piano teaching book focuses on the absolute basics of piano playing so that nothing is left out. The book is organized in units so it's easy to follow and understand what material is being taught when. Below is a break down of all the units:
Unit 1 -Hand Positions, Black Keys, & More
Unit 2 – Quarter Notes & Half Notes
Unit 3 – Dotted Half Notes & Whole Notes & Time Signatures
Unit 4 – White Key Names & The Grand Staff
Unit 5 -Understanding Intervals
Unit 6 – Counting Rests
Unit 7- Challenge Pieces
The opening units focus on hand positions, black keys, and finger numbers. The purpose of that section is to help pianists understand their way around the instrument in the simplest way.
After that, the next two units discuss note values, time signatures, and overall rhythm. The note values are introduced from shortest to longest, so it starts with quarter notes first and then adds in the half note, dotted half, and whole note.
Each of the playing exercises requires tapping and counting as part of the core practice steps. Because rhythm is so important in piano playing (or music in general) this is introduced early and reinforced throughout the book.
As the exercises progress so do the concepts and practice steps involved. There are color-coordinated notes to help with switching between the hands along with fingerings and other helpful information for each piece.
The next few units introduce the white key names and grand staff. The staff is introduced in a way for students to quickly identify landmark keys and discover other notes using intervals. Along with that are the introduction of rests and challenge pieces.
At the end of most units is a selection of short repertoire pieces where adult students can try out what they've learned. Most of the exercises are short four-measure pieces, but by the end of the book, they turn into longer eight-measure pieces.
This is a method book I believe strongly in (I wrote it after all) because it does not skip any of the core principles that many method books do. It moves at a slow pace and it's packed with step by step instructions to help adult beginners play the piano correctly from the start.
You can check out this piano teaching book here.
Alfred's All In One Course Level 1
I love this course because it's a complete method that covers all areas of playing the piano. Not only does it include an excellent selection of lesson repertoire, but this book dives into music theory and playing exercises too. The entire book is 144 pages and packed with enough information to study from it for years to come.
The Alfred course is actually a collection of smaller Alfred piano course books in one bundle. Below are a couple of key highlights that the book is designed to do:
Progress at a slow pace so that no important concepts are skipped
Focus on chord-based playing for more musical enjoyment (also explains the theory behind it)
Basic lesson instruction focusing on the fundamentals of playing
Theory exercises to reinforce the lessons being taught
Technique pages to build dexterity and accuracy in the fingers
A wide selection of popular piano repertoire
While most piano method books introduce the basic finger numbers and sitting positions, very few of them introduce hand exercises and stretches.
Alfred introduces some unique hand stretches, wrist dangling, hand massages, and handshakes to really warm the hands up. They even suggest placing your hands in water just to help promote circulation in the joints. It also gets into exercises to produce different tones at the keys such as soft and loud.
The key names are introduced shortly after along with the introduction of note values and short pieces from the very beginning. Alfred actually prints the key names on the notes to help adult pianists get playing quickly. As each new concept is introduced, there is a diagram or hint printed to help play those exercises.
Once pianists are comfortable with playing with both hands and the key names and locations, chords are introduced. Melodic intervals are discussed first and then the harmonic intervals. There are theory exercises there too so the adult student can create their own intervals and get a true understanding of what they are playing.
Around halfway through the method book, eighth notes are introduced along with tapping exercises. Wider intervals like 7ths and 6ths are shown at this point too.
By the later stages of the book, pianists will be playing plenty of classic pieces from Jazz to Classical. Popular songs such as Little Brown Jug and Auld Lang Syne just to name a few. What's great is that these pieces will be easy to play at this point because all of the concepts have been introduced and reinforced through exercises and shorter pieces.
The back of the book has a nice collection of popular major and minor keys along with fingerings. These are helpful when it comes to composing pieces of your own and self-accompaniment. Overall this is a great book to learn from if you want to be a complete player. I recommend studying the material with a teacher as it becomes more advanced though.
Check out the Alfred course here.
Bastien Piano For Adults – Book 1
Bastien publishes amazing method books for kids(I actually studied with these when I was younger!). However, they also make a really great selection of adult teaching books to help develop older pianists.
There are several levels to these books and each of them teaches the following:
Technique
Theory
Lesson Materials
Sight Reading
I really think the sight-reading and theory sections are the most helpful part of this method book. Sight-reading skills are especially helpful because that's what really helps develop a complete pianist.
Simply doing a few sight-reading exercises every day will improve your ability to read musical passages quickly. There is also plenty of theory with work pages sprinkled throughout the book to really hone in on those skills. It includes everything from recognizing notes and labeling them as well as clapping rhythms and other areas of reinforcement.
As far as the lesson material is concerned, the music is just okay. There's a good assortment of pieces and the variety is exciting enough that the music is never dull. Each of the pieces has fingerings to help aid in playing. A lot of lesson books come with CD's to play along with, but the CD for this book has to be purchased separately.
While this is a great book, it is not the easiest to learn by yourself. There is a lot of chord-based reading, however, it's introduced well. Ideally, you'll want to pair this with another book until you're comfortable with note reading and rhythms. It might be worth checking out the additional levels from this series too.
John Thompson's Adult Piano Course
The John Thompson adult piano course has always been one of my favorite piano methods. This book is considered the Preparatory level for adults. The book is 80 pages long but it covers a lot of material. You'll discover a great selection of classical music pieces, as well as popular tunes, jazz, rock and much more. I like the variety because it exposes pianists to all types of music and it's not boring.
Because the book is shorter does an accelerated pace compared to the Alfred books. It might be a little overwhelming for a complete beginner, however, if you have time to dedicate to the instrument it can work out well. Each section contains a series of drills focusing on a specific musical or technical concept of piano playing.
There is a big focus on clapping and reciting. In the preface of the book is a statement that also stresses the importance of accurate fingering to go with each piece. After each drill is a series of pieces that employ those techniques.
This method does not cover everything but it does cover all the basics. There are plenty of explanations and illustrations to help with finding the correct hand positions and playing the pieces. The opening pages quickly outline the key names and locations.
There's an explanation of measures, bar lines, clefs, and how to count. All of this is introduced quickly though, but the diagrams help. Teachers' notes are also included which offer a further explanation if you're trying to learn on your own.
If you're a complete beginner I would not recommend this book however if you learn at an average pace it is definitely worth checking out.
This is a book that I would not use for self-teaching but would rather do with assistance with a piano teacher. The other reason it's a good idea to study the teachers because of the ensemble pieces in the book. Each piece has duet parts written out so that you can improve your rhythm and balance in group playing.
If you're an adult student looking for something that's fast pace and don't mind taking off training wheels definitely check out this book.
Hal Leonard Jazz Piano Method
While most piano method books focus on the classical style of playing, most adult piano players have other interests. That's why I think it's great that Hal Leonard put together an excellent piano method that focuses on Jazz style playing. While it's a Jazz method, the core principles of reading chords and intervals are there. It's 98 pages so plenty is covered!
Jazz is vast, so Hal Leonard has included audio recordings to play along with. The book focuses on not just the chords, but the theory behind it. There's a big emphasis on how to voice chords properly, develop good finger habits, and how to improvise. Rhythm is a big part of Jazz too, so the book also focuses on that. Phrasings are also a big focus so that each style of Jazz is distinct.
Before jumping into this piano method, it's good to have a basic grip on the key names, scales, fingering, and some general music theory. I recommend this for intermediate to advanced piano players looking to expand their abilities.
Have a look at the method here.
Frances Clark Musical Fingers Books 1 – 4
Frances Clark is well known for her Music Tree books, however, she has an extensive collection of books to develop a technique for pianists of all levels.
The series of books I think to do this best for beginners is Musical Fingers. There are 4 levels of this book.
Each book has a breakdown of the proper sitting position at the piano. It talks about bench height, the distance from the keyboard, posture, and even the balance of weight for a good quality sound. While that information is great, this is always something you eventually should work on with an instructor.
The exercises focus on building different strengths in the hands. For example in book 2, there are five-finger patterns in sixteenth notes that focus on building the outside and inside parts of the hand. There are instructions on how to drop the weight and arm positioning.
As the book progresses it gets into chromatic scales, extending the five-finger position, and moving freely around the keyboard. There's some emphasis on phrasing too which is an often overlooked part of piano playing.
This book is very comparable to Hanon and Czerny but in a less intense fashion. The exercises are short and just the right level of difficulty for an adult beginner piano player. The exercises are intended to be easy to memorize and to be used as part of your daily practice routine.
I recommend this book as supplemental material to a core piano method book. This way you can develop strength and accuracy in the fingers while still getting a good dose of music theory and repertoire.
Frances Clark Keyboard Musician For The Adult Beginner
This book was published in 1980, but the information is still relevant. It might not be as flashy as today's modern piano methods, but the material is really helpful. This is a 207-page method book, so it covers a ton of material.
Not only does the method book move at a slow pace, but it's packed with activities to reinforce the concepts. There are 155 repertoire pieces, both solo, and duet. They are well written in a similar style to Music Tree, so the musical experience is enjoyable for everyone.
The book puts a big emphasis on sight-reading and is divided into progressive units. Each building on the previous exercises and structured well. There is also plenty of theory in the book such as a glossary of musical scales and terminology.
There is also a big focus on intervallic playing (just like the Music Tree books). Each hand is brought along gradually rather than being forced into difficult music from the beginning like some other books.
The one issue with this book is that the print is rather small, so it may be difficult to read at times.
Alfred's Group Piano For Adult Students – Book 1
If you're a teacher looking for great group piano material, this book by Alfred is the way to go. It's a massive book with a great layout so that all of the content is easy to read and digest. There are over 500 compositions in this book, so it's something you can stick with for years.
You often see this book taught in universities to novice pianists and beginners, but it's also a nice method to get for private use. To go along with that are accompaniments to play along with which helps with developing ensemble and balance.
Overall there are 26 units through 360 pages of text. The units range from the basics of playing, rhythm, and navigating your way around the instrument. Here's a breakdown of how most of the book goes.
The first Unit covers keyboard basics. This includes how to sit at the piano, note values, counting rhythms, whole steps and half steps, note names and even the chromatic scale. That might seem like a lot to cover in one unit, and you're exactly right. This book is written for college use, but if you're looking for something that gets to the good stuff quickly it's just for you.
The next three units go over intervallic reading, dynamics, and basic five-finger patterns. At this point, a few short repertoire selections are introduced, and each unit ends with a worksheet.
By unit 7 you'll be analyzing augmented and diminished chord qualities which is quite advanced. The major scales interestingly enough are not introduced until unit 10. Many of the later units focus entirely on different chord qualities and have an accompanying piece to go with that material.
As you can see, there is a big focus on the theory and technical aspects of piano playing too. From chord analysis, how harmonies work, articulations and much more, nothing is left uncovered in this Alfred piano method.
The thing I like most about this book is the wealth of repertoire selections. In fact, the back of the book contains 21 pages that are entirely made up of supplemental repertoire. This includes some familiar melodies along with original works that are fresh and enjoyable to perform. An appendix of scales, musical terms, and composers fills out the rest of the book.
Honestly, if you want an accelerated piano method with plenty of fun pieces to play, you need to check out this book for sure. Keep in mind, there is also a book 2 level if you want more material to study. Get this group piano book here.
American Popular Piano By Christopher Norton
I'm a big fan of the Christopher Norton American Popular Piano. The pieces in the repertoire book specifically are really enjoyable and broken down by musical style. For example, you can play pieces that are specifically rhythmic, or lyrical or a mixture of both.
These books come as individual pieces, but it makes sense to use the entire set. The American Popular Piano covers the following areas:
Technique
Repertoire
Etudes
I think Book 1 is a good starting point for adult pianists, but if you want a much slower introduction to playing then go with the preparatory levels.
Book 1 starts off with simple duets so the student doesn't have to play by themselves. The duets are short but very musical. As the book progresses the duets actually turn into dual student parts so you can learn both! Each piece can be played as a piano solo or you can choose to learn the rhythm section.
There's a good mix of meter too with swinging beats, straight rhythm, Bossa Nova, and much more. The variety is excellent in the repertoire book, especially when duets are played with a teacher. For an adult pianist, you'll get a good grip on various playing styles.
While this book is not for the complete beginner, it's definitely a collection you should add when you want to experiment with different musical styles. The Technique book does a great job of introducing articulations and various hand positions early and efficiently. There's also a big focus on phrasing and lifting the hands to assist with that.
You can pick up the Christopher Norton books at this link.
Adult Piano Adventures – Book 1
The Faber Piano Adventures series is well known for its exciting and engaging repertoire. The same can be said for their Adult Piano Adventures book.
Book 1 breaks down every aspect of playing from the technical and theory side. There is a lot of guidance in this method compared to others, and much of it is step by step instructions to ensure you don't get lost.
Even more unique about this method is that it includes online support to help with self-learners using this book. If you're tech-savvy, then you'll love this feature because it makes learning more engaging. With their online tools, you can access audio tracks to play with along with instructional videos.
As far as the content of the book, you'll find rhythm drills, repertoire selections, and everything you would expect with a basic piano method.
The early units start off covering ledger lines, scales, triads, and more complex rhythms by unit 7. By unit 15 you'll be playing arpeggios and sixteenth notes shortly after.
Overall I find this to be a method that is highly engaging and gets to the core hand positions and scales needed to play a wide range of music quickly.
Check it out here.
The Classical Piano Method Book 1
This method book was put together by Hans Gunter Heumann and is published under Schott. It's 96 pages of structured piano lessons that cover every important area of playing. From C major 5 note patterns to exercises focused on pedaling, it's well put together.
Each lesson unit has a breakdown of what concept is being taught and detailed diagrams to go along with it. At the end of each unit is a Theory check section where pianists can answer questions about what they learned throughout that unit. Each unit builds on material from the last, so this method book does not feel like it's all over the place.
As far as difficulty is concerned, the pieces are taken up a notch once you reach lesson 10. By that point, eighth notes, phrasing, articulations, and more should be polished. The music is actually written really well and much of it is very lyrical. Each of the pieces has a unique name that caters to the style of the music.
Intervals are introduced in lesson 12 and it's taught using lines and spaces along with visuals of the distance between keys. This is especially helpful when counting music with tiny print is difficult. The last portion of the book has an answer key so you can check your answers to make sure everything is correct.
If you're an adult pianist planning to learn on your own, this is an excellent resource. While this is a great book, it does move quickly in the first 5 lessons. By lesson 3 pianists will know four of the white key names, how time signatures work, note values, skips, and repetitions.
Grab your copy of the method book at this link.
Frances Clark Technic Time
Many adult pianists need a complete piano method, but there are cases when some of those core principles are already there. It helps to have a book to help develop technique specifically, build strength in the fingers, and improve overall playing ability.
While Technic Time by Frances Clark seems simple on the surface, these tunes are great developers of basic skill. It's geared for the complete beginner, but simply playing a few of these a day builds up the continuity necessary to be a great player.
Each of the pieces is short 8 – 10 measure exercises. Think of them as short etudes that focus on articulations, counting, accidentals, change of direction, and intervals.