As an Amazon Associate I earn from qualifying purchases.
As a professional pianist, I've often enjoyed teaching beginner pianists how to play Classical music. While Classical music should be a staple of piano playing, it's not necessarily the easiest to learn.
There's a wealth of fun genres' out there like Jazz, Pop, and Contemporary tunes that my students enjoy playing. Not only are those pieces fun, but there's less of a learning curve with some of those tunes.
Over the years I've developed a huge list of easy piano songs for beginners which I will be sharing here. If you're a novice pianist looking to boost your repertoire then I think you'll find this collection of songs to be just what you're looking for. Simple arrangements of these tunes can be found in the following piano method books.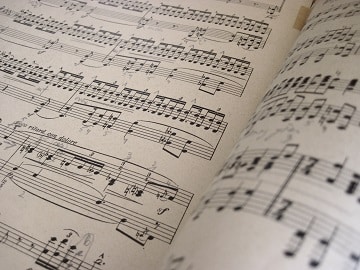 Below is a list of 21 piano songs for beginners
Old Macdonald
Lean On Me
What A Wonderful World
Harry Potter Theme
Minuet In G
Jingle Bells
Row, Row, Row Your Boat
Twinkle, Twinkle, Little Star
Minuet In G BWV Anh. 114
Fur Elise
Canon In D
Ode To Joy
Hey Jude
Claire de Lune
Ave Maria
Moonlight Sonata 1st Movement
Chopin Prelude E minor Op. 28 No. 4
Titanium
Yankee Doodle
Happy Birthday
Star Wars Theme
Next, I'm going to dig into each of these piano songs and describe them in detail. I'll share what's easy about them, and brief examples of how to teach them. Let's start with Old Macdonald.
Interested in quality digital pianos for easy learning? You can find them by clicking here#ad
1. Old Macdonald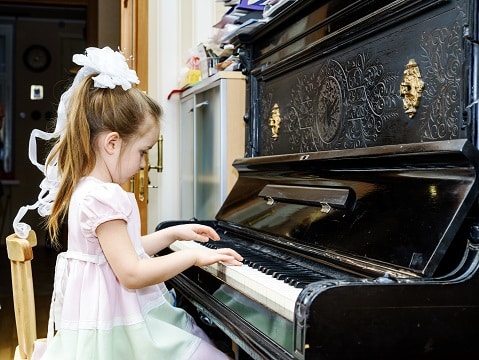 Old Macdonald is a childhood favorite that has a very memorable melody. Most young pianists can master the tune in just a few minutes. All of the chords are located in the left hand, while the melody can be played in the right hand.
The largest interval in the melody line is a 6th on the "E-I-E-I-O" portion. The majority of the melody focuses on moving down a 2nd and also features many repeated notes.
Chord structure wise the piece only has 3 chords to concern yourself with. It begins with a tonic chord, then moves to a major fourth. Following that is a major fifth and then the process repeats itself.
This is a tune you can teach a beginning pianist by rote or with sheet music. I would start off by singing through the lyrics, identifying the repeated notes, and then pointing out any measures that repeat again. Next, I would break down where the chord changes occur and then aim to play this with hands together instead of hands separate.
2. Lean On Me
Lean on me is a tune every pianist can dive into. Not only is it fun to play, but it promotes a positive message. The core melody is based on intervals of a 2nd, so it's really easy to teach.
This song can be played with chords in the left hand and the melody in the right. If the pianist is a complete beginner then you can teach it with the melody split between the left and right hand so that the hands won't need to change positions.
3. What A Wonderful World
If you love Louis Armstrong, then this is a perfect song for you to play on the piano. There are many arrangements available for this piece online, but it's usually written in F major. One of my favorite arrangements of this focuses on broken triplets in the bass to complement that repeated notes in the right hand.
There are some Jazz elements in this piece, so many of the arrangements you'll find of this have chord markings that can be implemented over time. This song is a great introduction Jazz without all of the confusing elements. I highly suggest going with the Hal Leonard arrangement of this piece.
4. Harry Potter Theme
For a student who's not a complete beginner, I think this song works well. It's something that's easy to teach, mostly because of the popularity of Harry Potter. It's often written in E minor, but there are some arrangements in other minor keys depending on the learning level.
Students should already have some knowledge of sharps and flats and intervals of a 4th to have the most success with this one. The song fits well into a natural playing position and humming through the melody can help with correcting wrong notes as you learn.
5. Minuet In G
I love this Bach minuet because a great deal of it is built on major and minor triads. The chord structure is solid and it's easy to distinguish one area from the next. The majority of the piece places the hands in G position in the first half, and in E minor for the second half.
This minuet focuses on call and response, so it's easy for new pianists to know what notes are coming next in each hand. Overall the piece is in an A B A' form, and it's short enough to teach in just a few lessons.
6. Jingle Bells
When it comes to holiday music, there's no easier piece to learn than Jingle Bells. This song works best in G position, and the hand doesn't have to move around at all. A new pianist can learn this song by rote, with finger numbers only or by using simple sheet music. Rhythmically the song is really simple.
It's based on mostly on two quarter notes followed by a half note. Other arrangements feature the dotted quarter note rhythm but considering it's a widely popular song it will come almost second nature.
7. Row, Row, Row Your Boat
Another childhood classic, this piece only spans one octave on the piano. To simplify this, you can play the song in the key of C. There are several repeated notes and a swinging back and forth of the intervals.
8. Twinkle Twinkle Little Star
If you're an adult beginner then this is the perfect piano piece to play for your children as they go to bed. Recently this tune with viral with many iterations of it, but the basic form of the song is really easy to learn.
The melody can be played with a total of 6 notes. The biggest leap is that of a 5th, which occurs in the very beginning. In that case, if you started the song in D then you would play the following: D, D, A, A, BB, A. Every word is broken into two syllables which lines up with repeated notes in each case.
9. Minuet In G BWV Anh. 114
Bach wrote several Minuets in his career, but BWV Anh. 114 is a favorite among piano teachers everywhere. This minuet is written in G major and has a 3/4 meter. The chord changes once per major, and for the most part, the left hand plays a dotted half note.
There aren't many hand shifts in this piece, but the few you'll encounter involve G and C major. Each of those sections features some scalar passagework, but the fingering is fairly easy to digest.
Once the basic melody and chord structure are mastered I would add in the musical ornamentation. There are several mordents and trills located throughout that really breathe life into this piece. I recommend this for an adult beginner, but younger piano students can also do well with this.
10. Fur Elise
Checking in halfway on the list of easy piano songs for beginners is Fur Elise. For a beginner, I would focus all of the attention on the beginning section as the rest of the piece is quite difficult. There are some piano arrangements out there that simplify the chord structure and limit the amount of moving notes without ruining the piece.
I think the Schaum edition is a really good one to start with. This version allows you to focus more on the melody while still supporting it with rich harmonies. There are quite a few position changes, and there needs to be some basic knowledge of sharps and flats. I wouldn't suggest this as a first Classical piano tune, but for a Beethoven piece, it's by far one of the easiest to learn.
11. Canon In D
Wedding bells anyone? Pachabels Canon in D is one of the most transcribed piano works in the world. A simple Google search will present you with tons of arrangements at any difficulty level.
What makes this piece work for beginner pianists is the simplicity of the chord structure. It's written in common time, and the main theme is based on the same five chords.
The melody is based on an outline of the D major scale in descending motion. Once you've gone through this a few times then the variations of that chord come into play. Most editions keep this simple with eighth notes filling out the conclusion. For those not comfortable playing this in D there are editions of this in C and G as well.
12. Ode To Joy
Beethoven finds his way back on this list with Ode To Joy from Symphony No. 9. A simple straightforward tune that features a back and forth of repeated note followed by an interval of a 2nd.
Typically written in G, the only chords to focus on with this tune are tonic, dominant, and the fourth. The left hand can easily play the chords while the right hand plays the melody.
Since the chords change every four beats it's really easy to put this piece together in a couple of practice sessions. This piece is the perfect introduction to Beethoven's music for a beginner. Many of the piano method books have a version of Ode to Joy in them. The version I like most can be found in the Music Tree piano series.
13. Hey Jude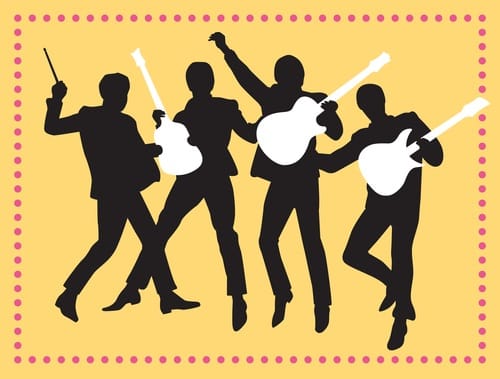 Hey Jude is a Beatles classic, and one of the easiest pop songs for piano. Some of the arrangements of these are simplified, but that does kind of dull the piece out. What is nice though is that many of those arrangements have chord charts, so you can figure out how to jazz each piece up on your own. In fact, there's an entire book dedicated to Beatles Classics that you can get here.
14. Claire de Lune
Claire de Lune is one of Claude Debussy's most loved compositions. This piece is a little more advanced, but an adult beginner should have no issues with it. The piece moves at a slow tempo and has a very clear melody.
Over the course of the work, some sweeping chordal passages do occur, but it's not overly difficult. The note reading is straightforward. There aren't a lot of accidentals, and the dynamics are easy to execute. Pianists will find most of the difficulty lies in maintaining a soft touch, even in the climactic section.
In the Tempo Rubato section, there are chords portions that do lend to bigger hands. If you have small hands this piece may pose some problems, in which case I recommend reading my tips on playing pieces with small hands.
15. Ave Maria
Often done as a solo vocal piece, the piano version of Ave Maria is a beautiful work of art. As with much of Schubert's piano works, there is a clear singing line supported with rich chords. I recommend checking out the video tutorial above to get an idea of the difficulty level of the piece.
16. Moonlight Sonata 1st Movement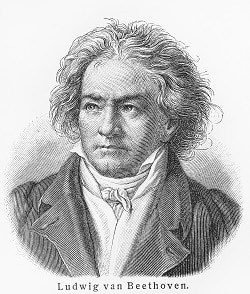 Beethoven has plenty of difficult piano sonatas, but the first movement from the Moonlight Sonata is one of the easier ones. The triple motive remains a constant throughout the entire piece. The left hand moves smoothly in the lower register down the C sharp minor scale in octaves.
The singing voice of the melody is executed by the pinky in the right hand. Overall there is a lot of repetitiveness in the piece, and it does not go into any abnormal chords. While I recommend this for a beginning adult pianist, talented kids can also work on this movement.
There are some easy piano arrangements out there that have this piece written in different keys, and at times with some reduction. Because of the easiness of this piece, I would suggest playing the original as it's already at a novice level.
17. Chopin Prelude E minor Op. 28 No. 4
Another classic is the Chopin Prelude in E minor. This piano piece was famously featured in the movie "The Notebook" and has a reputation as a love ballade. Overall the structure of the piece is simple, and most of the chordal shifts are attributed to the left hand.
The right hand moves in 2nds and at times chromatically. The tempo of the Prelude is also quite slow, although many pianists will use rubato which is characteristic of Chopin's music.
18. Titanium
Moving back into the 21st century we have a popular pop song by Sia. Titanium is a piece that's been widely covered and features a few basic chord moves. There is some good sheet music for this piece available, but the best way to learn it is by watching and copying what you see.
Take a look at the video above to get an idea of how to play this. This version utilizes a simple single line melody in the right hand and is supported by open 5ths primarily for the left hand.
19. Yankee Doodle
Yankee Doodle is a piece that I would play in the key of C. The left hand can start with the pinkie on E just below middle C. The right hand can start with the thumb also on middle C, so both hands will position themselves right next to each other.
From there the rest of the piece is really easy. The right hand should take over the majority of the first half of the song. The back half will be dominated mostly by the left hand and coming to a close on middle C. Teaching this to a student is really easy and it's a great tune to begin establishing a consistent rhythm.
I would begin by clapping out the rhythm, and then also singing while they clap. The neat thing with Yankee Doodle is that each word lines up with a note, so the pacing is simple. Most beginner piano method books have some version of Yankee Doodle in them, but I would stick to Music Tree or the Alfred series for this.
20. Happy Birthday
We all have birthdays right? Happy Birthday is a staple in world culture, so it helps to know how to play it. It moves at a dance tempo in three. Here is a simple arrangement of Happy Birthday that you can learn in just a few moments.
21. Star Wars Theme
There are so many John Williams creations out there that we all love. From Jurassic Park all the way to this next suggestion; Star Wars. The theme is really to lock down. The hand position stays in one spot for the most part with the exception of a quick leap up an octave before returning. The contrasting theme portion features our first augmented note, but outside of that, it's really easy to play this tune.